The Dry Day
By: Kirsten de Jong, Logan Emiry, Whitney Small & Stan ter Woerds
Summary of the Day
Today, we began in Norfolk, Nebraska which much like Norfolk County, Ontario is built on lots of sand. Sandhill's are deposits of sand that blew in from the Rocky Mountain, scattering across the state of Nebraska. We left our hotel, on route to sandhills, hyped up on mango smoothies and the results of last night's happy hour.
During the bus ride we were joined by Dr. Bill Kranz, an outreach specialist from University of Nebraska. He spoke to us about the Ogallala Aquifer, local water ethics and policy, and irrigation in the area. First stop from the hour bus ride was at Rich Uhrenholdt's farm.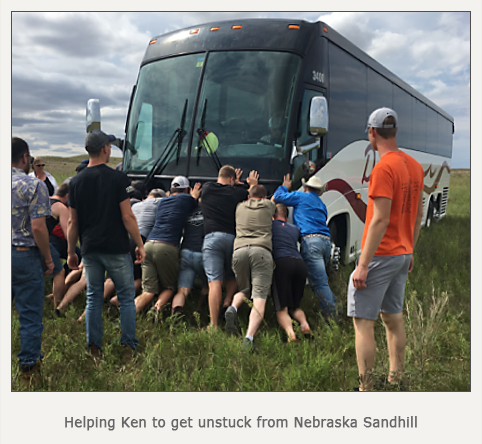 Upon arrival we met Rich and two representatives from Midplains Ag. Rich spoke about his farm and the center pivots he uses on the sandy conditions of his fields. We also learned about how different management practices on his farm have helped improve productivity and soil stability over the years. The Midplains Ag representatives spoke to us about irrigation techniques, drone surveillance, and crop management. 
We had lunch in the village of Bartlett, which has the highest number of brass statues per capita in the world. Although Bartlett only has 100 residents, their local diner, Bibs and Boots, still had a good crowd of people and served a mean burger. 
We then travelled to Wagonhammer Ranch, a 35,000-acre ranch owned and operated by Jay Wolf. We drove on pasture to talk about the farm including pasture management, cattle genetics, and farm structure. Jay and one of his workers, Joe, told us about how the farm has remained productive during the extremely wet year and how effective management of the grassland is both helpful for and reliant on cattle. Of course, it was not a true Midwest Tour experience without us having to push Ken out of the field on the way out! 
Stop 1: University of Nebraska Irrigation Demo Day Location
Dr. Bill Kranz, from the University of Nebraska connected us to a local farmer named Richard Uhrenholdt. Both spoke on the use of irrigation and effects towards the Ogallala aquifer. The Ogallala aquifer is a supply of water, covering 8.6 million acres of irrigation stretching from South Dakota to the tip of Texas. This is the largest aquifer in the world. Of this water, 65% is located under Nebraska soils. There are 4 major manufacture companies that make centre pivots, all located within Nebraska. This correlates to the main type of irrigation being 82% centre pivots in Nebraska. This proves that research being conducted by Bill and fellow colleagues is very important to the livelihood of this state. 
A main theme we gathered from this stop is how irrigation contributes to better crops and furthermore the quality of land. Nebraska's rotation is predominantly corn and soybeans. There are various soil types across the state but majority are sandy soils. Water in these soil types is a very important factor in growing a crop like corn. Irrigation helps to reduce yield variability within a specific field when soil types differ within the field. When referring to corn, irrigation can be responsible for a 100-bushel yield increase. The centre pivot irrigation system does this by imputing the proper amount of water needed for the growing crop. Fertigation is also a key aspect to an irrigation system. The ability to incorporate fertilizers within irrigation utilizes water and allows for multiple applications of nitrogen within a growing season. Richards fertilization schedule on a given year for corn between planting and silking is as follows: 35lbs of starter, two applications of 50-60lbs, and up to three applications of 30-40lbs. The average Nebraska farmer invests over 250lbs of nitrogen in their irrigated fields per year. This may seem like a large amount when compared to Ontario, but remember their sandy soils only have about 1.2% organic matter. Nitrogen is not readily available in the soil to be up taken when needed, which is why so many applications are beneficial. This type of nitrogen application helps to mitigate flushing of nitrates. The constant water due to irrigation also helps to incorporate nutrients such as lime and maintain pH levels in the soil.
Another theme that comes to mind after learning about the aquifer is water rights. If rights are not abided by users of the aquifer, appropriate action will be taken. Currently, there is no cost to use the water. This does not seem to be a concern in Nebraska because an abundance of water is still available in this state. We think the water usage is necessary, but a concern arises that if precaution isn't taken now, a greater action will be necessary down the road. Water rights are regulated for surface water by whoever owns the land. In contrast, groundwater is regulated by natural resource districts (NRD) on how much water can be extracted per year. A connection we made on how Corteva Research is developing varieties of corn which are drought tolerant. If hybrids can utilize water more resourcefully, irrigation will become more efficient.

Stop 2: Wagonhammer Ranch
Wagonhammer workers, Jay and Joe, met with us to have a conversation about dry land pasture and cattle management. Jay believes a ranch located in the sandhills of Nebraska, is one of the best areas to graze cattle. The ranch consists of 35,000 acres, where 2000 cow calf pairs graze with rotational grazing. Jay and his team are very proactive managers that have a lot of passion for the ranch and the cattle. They explained to us how they have improved production and sustainability over the years.
Our tour at Wagonhammer Ranch focused on the importance of cattle to maintain a productive and healthy grassland. Jay's management team has come up with a protocol of grazing for 7-10 days in the hot season and 3 days in the cool season per paddock. This promotes healthier root systems in grasses by allowing longer regeneration times of 45 days. This method also maintains plant population and density. This has led to a 35% increase in capacity compared to conventional grazing. Jay explained that through improvements in rotational grazing, and pasture size, regrowth of native plants has been promoted. Native plants have a larger, and more diversified roots which has led to a stronger soil structure and reduced erosion. Jay talked about how erosion in the area is caused by wind rather than water due to the sandy soil being able to drain surface water so easily. Through their improved pasture management program Wagonhammer Ranch has seen a large reduction in occurrences of blowouts and erosion in general.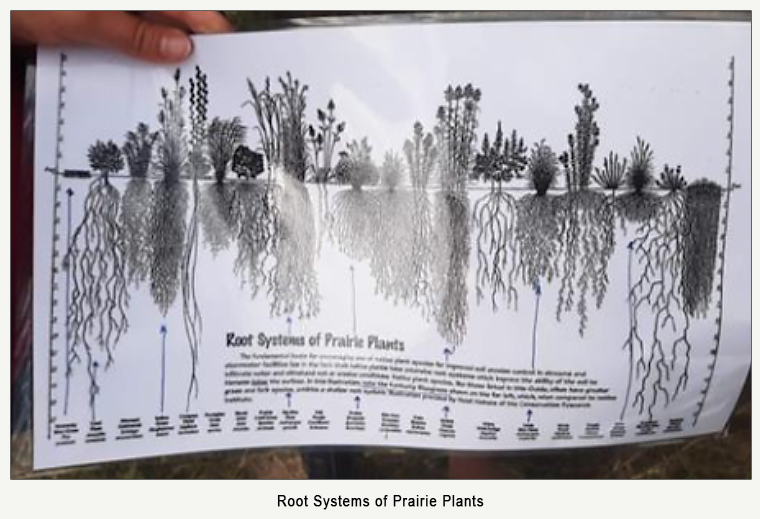 As well as utilizing a progressive pasture management program, Wagonhammer Ranch is a progressive farm in terms of genetics. Similar to Nichols Farm, which we toured earlier this week, Wagonhammer used genomic testing to provide evidence of the genetic quality of their bulls. Using a CIDR program for breeding allows the ranch to efficiently breed their large herd in a time effective manner. The ranch focuses primarily on docility when looking at maternal traits in their herd. As Joe said to us, "Docility is priority number one. And what is priority number 2 Jay?" "Docility" was Jay's quick response. The reasoning behind the focus on docility came down to customer satisfaction. If a customer gets a wild bull it will be a customer lost. Looking into the future Wagonhammer plans to continue their progressive genetic program by tissue/DNA sampling all their registered heifers on farm. 
Critical Thinking 
The visit at Midplains Ag demo day and Wagonhammer Ranch clearly provided evidence towards the importance of erosion prevention. Both mentioned the significance of cattle grazing and crop irrigation to aid in forming root structure which in turn, helps strengthen soil structure. Additionally, fertigation practices results in higher biomass production and increases organic matter. This is significant in this area as it has prevented sandstorms occurring, thus improving the livelihood of the areas. Also, supporting the local community was very important to Wagonhammer Ranch and the Midplains Agriculture demo area. 
Yesterday, we had the opportunity to tour an ethanol plant which drew heavily from the Ogallala Aquifer. In the previous blog post, the aquifer was deemed a near unlimited source of water available to farmers and industry. Today, during our tours, it became clear that the amount of water being drawn from the aquifer may not be sustainable. Many restrictions have been put in place to help reduce the impact of water use in some areas. However, in areas like Bartlett, the restrictions are far less on how much water can be pumped. This raises the question, if the actions of the farms and industry we have toured in the past few days are just as responsible for the shortages in other areas of the aquifer. 
Today, further developed the theme of the trip that rural communities depend on agriculture just as much as agriculture depends on community relations. Communities such as Bartlett depend on the local operations for employment and upkeep of the local infrastructure such as schools and parks. Isolated communities such as Bartlett would not exist without these operations. Agriculture also depends on the networking with others to help businesses thrive. Just as Jay mentioned, "Don't just go home to the farm and work, be involved in boards," as networking is important for a business to be successful in the future. This trip is an example of how students are networking with both farmers and industry partners to gain knowledge that we can take back to Canada. Networking is a big part of the OAC and this trip is one of the best ways for students to engage while learning about Midwest agriculture.