Crop Tour Day 4
Day 4 of the Midwest crop tour revolved around industry leadership and innovation, visiting the John Deere Des Moines Works facility and Nichols Farms beef genetics. The group started off the day with a continental breakfast at the Baymont Inn before packing up the bus and traveling to the John Deere manufacturing plant in Ankeny, Iowa. Upon arrival, the group was met by a number of retired employees, each with 30 plus years at the facility, to tour the group by cart. The next stop of the day was in Anita, Iowa, home to Nichols Farm. We were greeted by Dave Nichols, current owner of the farm, giving the group a run down of the farm's history, goals, and values. Ross Havens, genetic manager of the farm, then went into further detail on the operation's development, technological advancements and market strategy. Wrapping up the visit, students got up close and personal with a South Devon cow calf herd on pasture before loading onto the bus to leave. We ended off the day traveling to Lincoln, Nebraska and staying at the Graduate Lincoln hotel.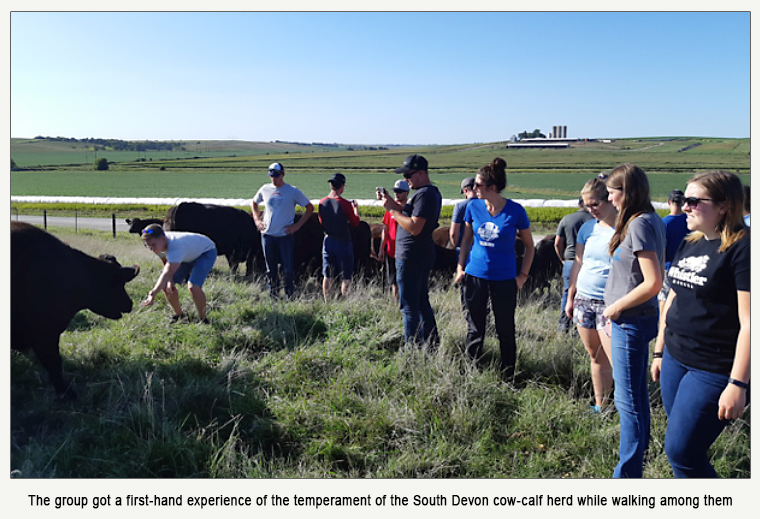 John Deere's Des Moines production facility located just outside of Des Moines, Iowa is one of ten John Deere production facilities found across the United States. Des Moines Works has a unique history, dating back to the Second World War. The facility was originally built and used to make machine gun shells during war time. John Deere purchased the 4000 acre property in 1947 from the US government and currently sits on just under 600 acres. The facility has adapted to the original buildings to fit their production needs and has built several new buildings as well which are specialized to specific tasks. For example, one building cuts parts, while others weld, and paint. The parts created in these buildings are then sent to others that build sprayers, cotton pickers, tillage equipment and grain drills. The flow of parts to production lines allows for more efficiency and room for innovation. 

John Deere incorporates a multitude of innovations into their production line and design. To maintain flexibility in their production line, they store the raw materials to make parts on site. This contributes to their capacity to customize equipment with every order they receive from their customers. They are able to further meet their customers shifting needs by rapidly turning over the production line. Our tour guide highlighted the need to be adaptable, by telling us about their customers from China keeping them on their toes with new cotton picker orders. Instead of ordering the newer model that the facility is currently set up for, growers in China ordered an older style of picker forcing the facility to create a new production line. However, with a flexible facility, they can quickly adapt to these changes and produce these new orders easily. To make sure that all of their products meet the same standards, each workstation had quality checks made through 'smart tools'. These smart wrenches ensure quality by making sure that all bolts are placed in the correct order and are properly torqued, using wifi and sensors. By relaying this information into computers, they ensure that the product is assembled with the same quality every time. 
John Deere made it clear that with the improvement of effectiveness and efficiency in product production, the same drive and innovation was applied to ergonomics within the facility. The company articulated the importance of employee safety and overall comfort being equally vital to the development and longevity in their business unit. One of the ways they have improved their ergonomics is by having machines that rotate the frame of the cotton pickers upside down, allowing the workers to place the wheels on the pickers with ease. When visiting the facility it was apparent that safety was a top priority for all personnel. They had many different features added to their production line to minimize employee risk of injury. For example, the line had pulleys and tracks on the ceiling to move around any objects weighing more than 40 lbs. Workers were also required to wear harnesses when working on projects at heights. An interesting safety feature noticed by students was a plastic shield in the workers' baseball caps to add extra protection instead of wearing hard hats. All of these safety features and numerous others created an environment that allows and encourages employees to work efficiently while minimizing workplace incidents. 
In the afternoon we arrived at Nichols Farm, for a visit that has been a Midwest tour tradition for the past 34 years. Dave Nichols has made quite the name for himself in the industry of selling beef genetics. Dave shared his family's story of creating room for themselves in the market. In the uncertain times following the Second World War, Dave's father made the calculated move of taking a loan to purchase a herd of steers after analyzing the American economy's position. Today he has expanded his original herd of Black Angus to include Black Simmentals and Black South Devons. With a desire to continuously adapt and incorporate innovation into their genetics, Dave has pioneered numerous practices beneficial to the industry that are now commonplace.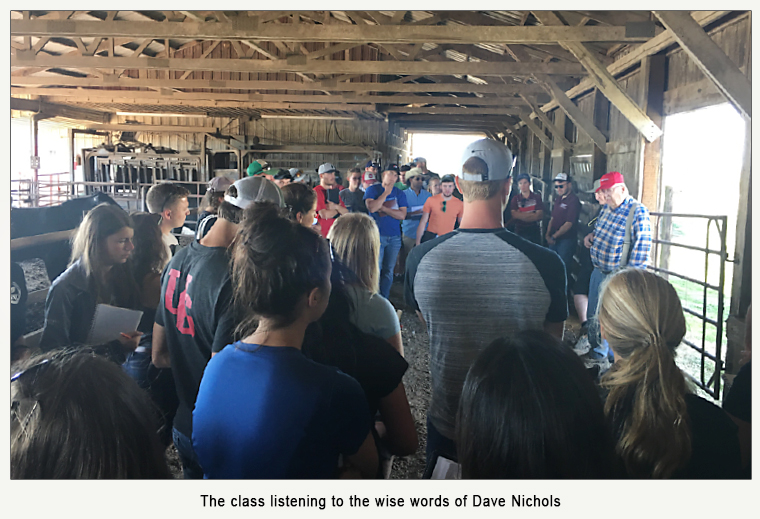 Nichols Farms were the first ones to bring the industry innovative, club calf sale to the forefront of the beef industry. This sale method consolidates cattle of the same genetic make-up and meet specific standards for animal health. For example, under the Nichols' club calf sale, the calves were required to be vaccinated for respiratory diseases such as IBR (Infectious Bovine Rhinotracheitis). This gave the buyers certainty of healthier calves that will be uniform in performance and carcass traits which incentivises them to pay more for the calves. This was shown in the first ever sale which performed 16 cents per pound over the week prior's sale at the same stockyards. The popularity of the sales method has allowed them to grow their sales to around 100,000 calves annually. This club sale style has been adopted in areas all over North America, including Ontario.This has allowed the province to see very positive price basis on calf club sales, up to 10% over the market average for that week.
Nichols Farms markets half of their 400 bull calves in January through a modified auction. The bulls are broken up into groups that they value at $4500, $4000 and $3500. If more than two buyers wish to purchase a bull at a certain price then an auction will ensue until the final bid is placed on the bull. After the January sale, all bulls are bought on private tender. With this form of flexible marketing, Nichols Farm is able to appeal to a wide range of customers.
To maintain the high standard of the Nichols's name, all bulls are tested through their own facility to determine the bulls' average daily gain, feed conversion, temperament, marbling and rib eye size while the bulls are on a high energy diet. To perform the testing they use technology such as ultrasound to measure rib-eye size, Digistar TMR (Total Mixed Ration) tracker for measuring feed input, Allflex tags, a tracking system and weigh bars to record weights and assign information to individual animals.They also DNA sample each animal to track and select which animals they wish to keep by looking at the genome sequence. This increases the percentage accuracy of the EPD (Expect Progeny Differences) from 15% to 33%. By doing these additional tests, Nichols Farms has seen significant return on investment in their herd's performance. 
 While Nichols Farms and John Deere have differing operations, we observed similarities in their approaches to acting as leaders and innovators in their industry. It was apparent that for both operations, customization is a key part of meeting their customer's needs. While John Deere will start from scratch with building an order to incorporate customizations, at Nichol's farms they will similarly customize the genetic stock of cattle for customers. A further approach to leadership in their industry that both companies take is the value they place on their employees. It is clear that the two operations understand that cared for employees is reflected in their products. We learned today that John Deere is mindful of the time of year to provide more job security to labourers and minimize irregularity. A Nichols Farms approach to retaining employees is to give each worker a cow and calf pair for every year they are employed. As leaders in their industries, it is encouraging to see that employees are being valued as a key part of their business success. 
Overall, we had a fantastic day touring John Deere Des Moines Works facility and Nichols Farms. Each of the stops were leaders in their respective fields and exemplified the many ways you can be innovative in the agricultural industry.  
Thanks from the Aggies on the Midwest Crop Tour!
Eric, Evan, Kaitlyn, Kathryn and Shauna