Crop Tour Day 4
Stop #5: Scott Wheeler Farms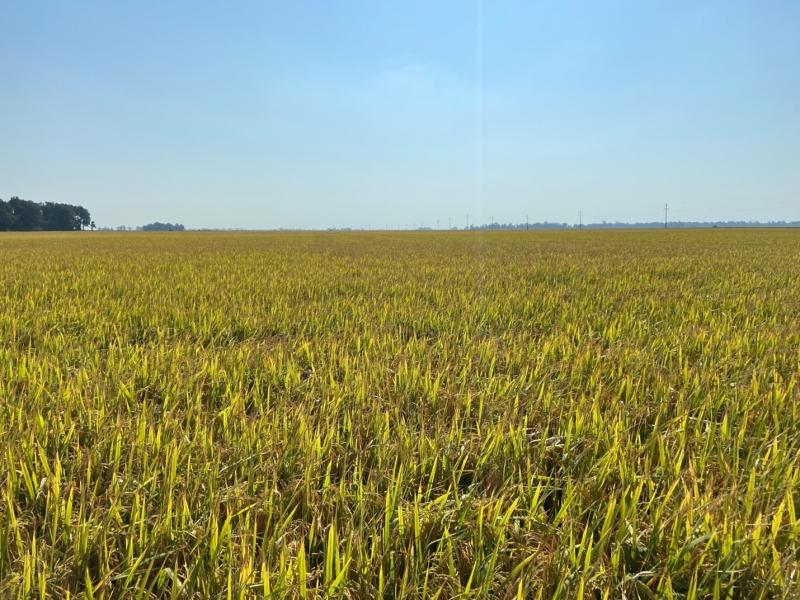 The first stop on day four was Scott Wheeler Farms. This is the largest rice producer in Missouri, with about 6000 acres. The farm additionally grows 6000 acres of soybean, which are rotated each year with the rice. The farm is family run by the 3 Wheeler brothers and their 3 sons. They have 6 full time employees and 2 part time employees most of the season, but have about 20 during harvest season. This season they were mostly growing a variety of rice called Jasmine. We received information from 3 of the owners (the sons of the brothers who started the farm), and their crop consultant. The tour began in the shop with information from Wendell , followed by a q and a with all of them. 
We first talked to Wendell, who worked for BASF for 17 years before beginning his career as a consultant, working 24 years for the Wheeler brothers. He helps farmers make decisions on what varieties to plant, drill setup for rice, and maximizing yield. Ultimately, Wendell makes the farmers he works for money and believes in having to spend mo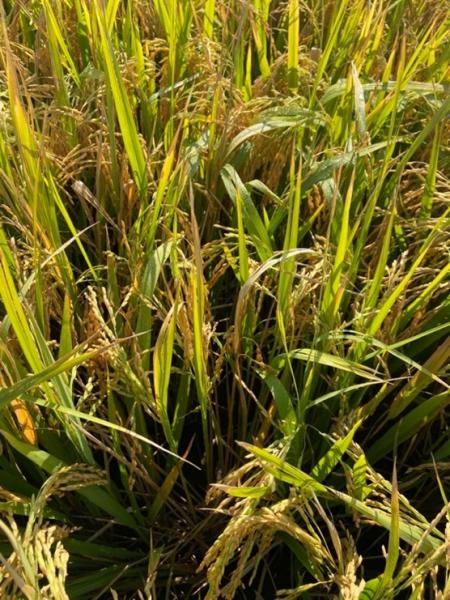 ney to make money. He advises on selecting the rice variety which is influenced by environmental patterns that occurred the previous growing season. Last 2022 growing season, there was a lot of water in California which means that California grows a lot of medium grain rice. Now, this year there is a greater demand for medium grain rice because it has been very dry in California until hurricane Hillary so the proportion of medium grain grown in Missouri spiked a lot to fill the gap. Missouri can grow rice because of its unique land history. As mentioned in the previous blog post, the land was once flooded before it was drained and logged. The land also has an advantage as it sits alongside the Mississippi river. The Wheelers farm is located at the north delta of the Mississippi delta which runs from a few miles north of Sikeston, Missouri all the way to New Orleans. Along this area, water can be extracted from 15 feet below. Wheeler farms only need to drill 50 foot wells to have sufficiently replenishable water. 
The 3 cousins talked about their selection of Jasmine variety rice. They receive a premium on Jasmine rice that compensates for its lower yields. Jasmine rice also requires less storage and isn't as rough on equipment as hybrid rice is. It is a long-grain rice and is popular due to its pleasant aroma and taste. The ideal Jasmine rice crop should make pearly white rice and have limited shatters. Shatter is a genetic problem, but is also crucial to reduce shatter by getting the crop off in time and selecting the right equipment. They use a stripper header to reduce the amount of shatter.
Rice has a few problems with diseases like sheath blight, which is soil born and can cause up to 50% yield loss. Another major issue is barnyard grass. This has been a historically significant problem which has gone through various uses of herbicide for control. Farmers over applied glyphosate in the early days of Missouri raising rice. They then went through a number of other effective chemistries like propenyl. Currently, to prevent any more resistance from rapidly spreading, 3-4 chemistries are used. Pre-emergent are important to use and all efforts are made for eliminating all grasses before the flood that occurs for 2-4 inches.
Some of the main discussion from the question and answer was on the farms spray program, different rice varieties, drying rice, and milling rice. The farms spray program is first applying a heavy dose of pre-emerge in front or behind the drill. They later apply a 2nd pre-emerge and then a post emergent before flooding. There are 3 types of rice; short grain, medium grain, and long grain. Short grain varieties are not commonly grown in the United States. Medium grain varieties are short and fatter (rice used by Kellogg's for Rice Krispies). Long grain varieties are sold as whole rice, and 50% of it is consumed by the United States. They talked about how when drying rice the goal is to get 13% moisture, however they usually aim for 12%. Their reason for this moisture amount is that 7-8% is too brittle and 14-15% gums up the machine. In the milling process rice is weighed 3 times. The first time is the weight of the rice as is. The second time is the weight after removing the hull and target weight is around 70% of the total weight. The final time the rice is weighed is after sorting out the broken rice, the target weight is 55% of the total. 
We had the chance to walk through a rice field that will be ready for harvest this upcoming week (see Figure 1).  After asking further questions at the rice field we took a class photo (see Figure 2) and loaded the bus for our next stop.
Stop #6: Parker Family Farms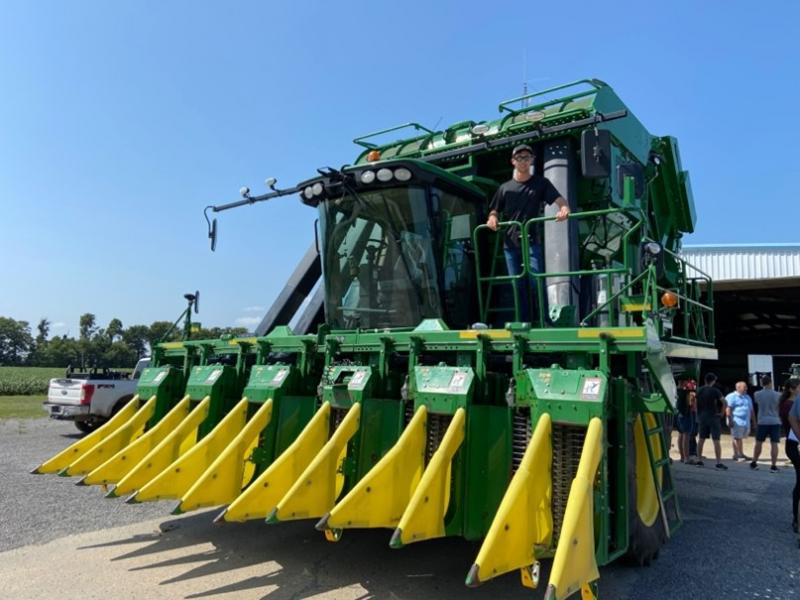 Our second stop of the day was to Parker Family Farms in Sikeston, Missouri. Danny Parker and his family grow 10,000 acres of mostly cotton, with some acres of corn and soybeans. We were fortunate enough to hear from Dr. Michael Milam from the Missouri Extension Centre. Dr. Milam provided us all with a very informative handout that included diagrams, information, and statistics centred around cotton. He explained how cotton grows and how the size of the boll changes with each position on the plant. We learned that majority of cotton bolls are produced within the first four to five weeks of blooming, but that blooming can take up to seven or eight weeks. Boll shedding can be caused by cloudy weather or shading, as well as nutrient deficiencies of almost any essential nutrients. Insects and diseases can also be responsible for boll shedding, as well as damaging bolls that do not shed.
Cotton Production
Deltapine is the most common cotton seed brand planted in the United States, followed by Americot and Phytogen. In 2018, there were 322,000 acres of cotton harvested in Missouri, with an average yield of 1,373 lbs/ac and a total of 921,000 bales, each about 480 lbs.
Cotton is typically planted about 1/2" deep but can be planted shallower if a heavy rain is expected soon. This is to ensure the plant can emerge if the soil hardens after a rain event. The Parker family plants their cotton on 38" row spacing. They broadcast some of their nitrogen up front in a fertilizer blend, then apply nitrogen again in-season through y-dropping.
The Parker family has nine centre pivots for irrigation, but majority of their cotton ground is flood irrigated using polypipe. In flood irrigation, polypipe has holes that line up with every second row so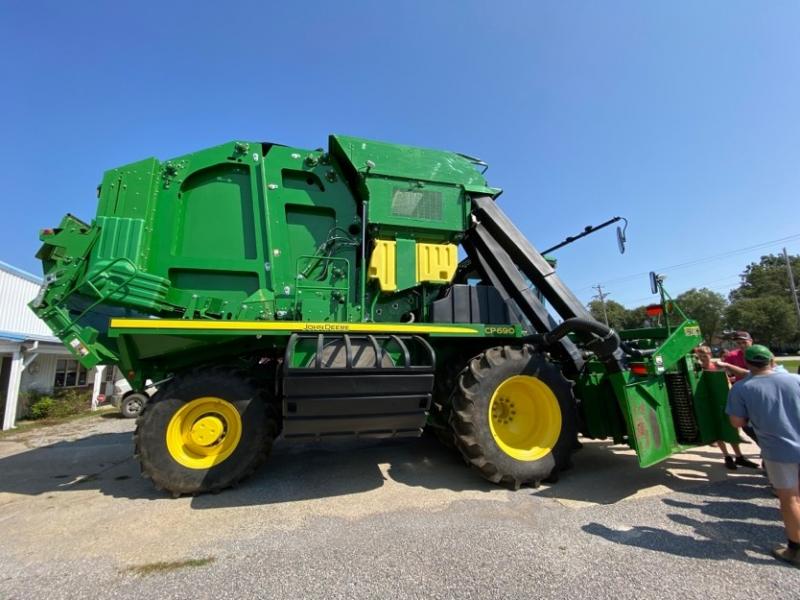 water can flow between rows. Every field that is flood irrigated is lazer-leveled to allow the water to flow throughout the field. The main challenge with polypipe is rodents putting holes in the pipe. It can also be torn by sprayers driving over it.
The Parker Family hires a full-time crop consultant to scout their cotton. Cotton is a 150-day crop, so planting early is important so the crop can reach full maturity before the first frost. GMO technology called Bollgard 3 that is primarily for insect control but is typically stacked with traits that allow for herbicide tolerance to help with weed control in-crop. Early in the season, thrips are a major concern. Once the plant reaches about four or five leaves, it begins growing too fast for the thrips to keep up and they become less of an issue. The most common nutrient deficiencies found in cotton are potassium and sulfur. Each fibre in the cotton boll grows from a single cell on a seed. It is ideal to have a thin, long, and strong fibre.
Equipment
The Parker family run five high-speed planters, all 12 rows. They planted 7500 acres of cotton in seven days this spring. The planters were all bought new this year. Because of the weight of the planter, they needed to add front dual tires to all of their planting tractors to compensate. These planters are also used for corn and soybeans. Some minor adjustments need to be made including planting depth and there are specific plates used for each crop.
Their spray program on cotton includes weekly applications of crop protection products and nitrogen.
The Parker family run five cotton pickers, with the oldest one being five years old. Across all five machines, they average $40,000/year in maintenance. Most of the maintenance is done themselves. Harvest starts mid-September and typically wraps up in mid-October. On each day of harvest, they arrive to the field around 7:00 AM and service the machines for about three hours. By 10:00 AM, the dew is usually gone, and the crop is dry enough to harvest. An ideal moisture level is 10% but they will harvest up to 12.5%. They typically harvest for 10-12 hours/day, driving 5.5 mph. The Parker family harvests seven days/week unless there is a rain event.
Farm Credit
The Parker family works with a company called Farm Credit for any loans on their farm. Farm Credit has a mission to help people farm in whatever way they can. They have a program for young people that want to get into farming but don't have the financial backing to do so. In order to be approved for a loan in this program, an individual has to present a plan, showing they understand the high costs associated with agriculture, as well as have a good credit score. The average loan size for this program is about $200,000.
Farm Credit has lending authority of up to $12 million before having to get approval from someone higher up. They offer three different loans, all with different interest rates. They offer operating loans, equipment loans, and real estate loans. They lock their interest rates for the entire duration of the loan. They primarily lend money to full time farmers, but also lend to part time farmers, and landowners.
With another day in the books, we will head to a Walnut shelling operation and a fish farm tomorrow.