Crop Tour Day 3
STOP 3 - GRIGGS Farm
Main highlights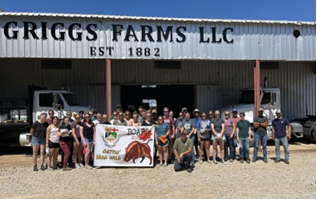 Really focuses on regenerative agriculture and emphasizes being a steward of the soil.
Passionate about his enterprises and his beliefs as a farmer.
Incorporates his farm experiences online to try and connect with both the farmer and public.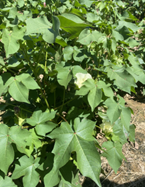 Matt Griggs and his farm hand Andy showed us around his family owned and operated farm, Griggs Farm LLC, where they are currently on 2000 acres of corn, cotton, soybeans, and wheat. Their family originally started on 850 acres of strictly cotton, where they have expanded to other grain crops as well as many other Agri-tourism enterprises. Some of these enterprises include starting a YouTube channel in 2016, with a large influx of views and popularity from 2020 and on. The main attention of his social media is to educate the public about where their food comes from, which Matt is very passionate about. Not only has it been beneficial to public education, but inspirational to other farmers around the world, influenced by his ideas.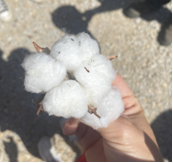 At the Griggs farm, it was emphasized profoundly, Matt's love for regenerative agriculture. This started in 2015 when he sparked an interest in cover crop benefits for water retention. This moved to overall soil health, biological improvement, and overall being a steward of the soil. Every 1% increase in organic matter gained 1 inch of water holding capacity. Tillage was also one of the main management practices The Griggs Farm has moved away from, as Matt stated it greatly impacted the erosion which tends to be high in Tennessee. Matt is an amazing planner, as he is consistently planning for both cover crop and his overall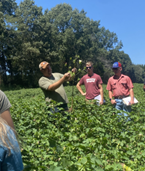 crop rotation to ensure there is at least 11 months of the year where there is green cover. His crop rotation consists of corn, cover crop, cotton, wheat, double crop of soybean, and another cover crop. Matt emphasized how little inputs he uses in terms of nitrogen, where he applies half the amount than the average farmer for their cotton in his area. He also mentioned that he directly correlates this to his soil health, and he is experimenting with an even smaller rate of nitrogen and it's effects on the quality/yield of his cotton with this large change in input. The main fertilizer he applies to his soil is chicken manure and variable rates of Phosphorus and Potassium.  
Sustainable agriculture is so important to Matt, where he mentioned that for every 1 acre of his high biomass cover crop planted, it is equivalent to removi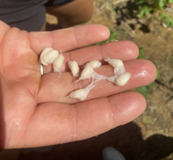 ng the amount of carbon emissions from 26 cars! After the first year of Matt planting a cover crop, he had noticed a difference in his weed management and after three years, it was evident that he had an increase in water holding capacity. This is very important as he told the group that where he resides, there is only around 52 inches of rain/year. With rainfall being the most limiting factor, it is important to retain as much water as possible for yield maximization.
STOP 4 - Fischer Delta Research, Extension & Education Centre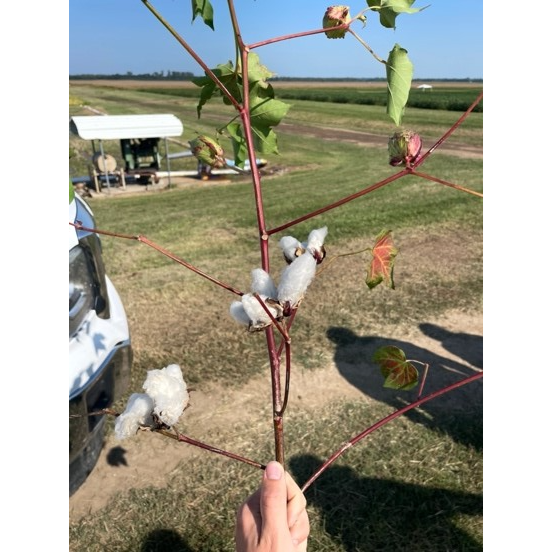 Arriving in the Bootheels of Missouri, the first thing we noticed was how the topography had changed dramatically from small hilly fields to extremely flat and well portioned fields. Justin Chlapecka from the Fischer Delta Research Education and Extension Centre explained this unique topography was because the area was once a wet marshy swamp that was drained and logged for crop production in the early 1800s. This gave the land characteristics of having variable soil types across even a small field. An interesting point to add that could play a role in topography is that it is located near a major fault line that once caused the Mississippi river to flow backwards!  
The first area we visited at the centre were the cotton trials where Bradley Wilson, head of cotton research at the facility, showed us the crop physiology and explained the American cotton industry. Bradley's research in cotton includes variety trials for third party companies, herbicide use, biological control testing, and incorporating cover crop use into crop rotations.  
Typically, a growing season would start in early May because it takes 130-140 days to mature, and they need to optimize the growing season and take advantage of heat units before the first frost in mid October. To determine the variety of cotton that a producer would plant, the heat units are measured by taking the average of the maximum and the minimum temperatures of a day divided by 60. By doing this calculation, the calculated heat units for the Delta Research Centre are 2100-2400. Plant growth regulators (PGRs) are used to optimize reproductive growth and performance. PGRs block the auxin pathway controlling node growth, therefore promoting more boll growth. PGRs are applied at a rate of 48 ounces per year. An ideal cotton plant in this area will put out 18-22 nodes.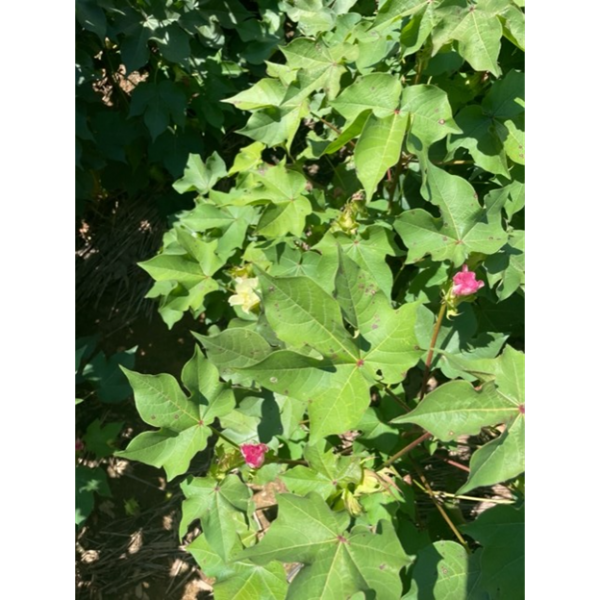 Frost will cause significant damage to the ripening process and the opening of the bolls. If the bolls do not open before the frost, there will be a significant yield loss as it is more challenging to harvest. Even though the genetics of a cotton plant allow for the crop to be an perennial, it is treated as an annual crop in the Mid-West due to the winter climate and frost. Cotton plants are indeterminate crops; therefore, their genetics allow them to continue growing without a set end point, like soybeans. This is problematic for farmers, especially those in the northern parts of the cotton growing region, who would prefer that their crops remain shorter. The critical yield growth period is between 6 and 14 nodes when pest pressure and plant requirements are the highest. During this period of 6-14 nodes, some pests that are controlled are tarnished plant bugs, spider mites, target spot and bacterial blight. Spider mites are an issue during dry growing conditions and will cause leaf drop. Bacterial blight will turn leaves black, killing the cells and allowing pathogens to enter the leaves and bolls causing them to rot. This is usually an issue when growing conditions are wet.  
Pollination of cotton is primarily self-pollination; however, wind pollination can also occur. When flowers first emerge, they appear white and will turn pink once pollinated. Any flowers that are pollinated after August 25th will likely not be harvestable, as they will not have a chance to mature prior to the first frost around October 15th. In terms of harvesting, a six-row harvester will come through and strip the cotton bolls. An ideal weight is 3 - 3.5g with a moisture of 6-8%. It is important to have high fibre quality, measured through the length, strength, and colour. 
Next, we saw the first rice fields of the tour and for many of us the first rice we've ever seen. Justin Chlapecke, Rice Extension Specialist at the Delta Research Centre, showed us the rice test plots as they were almost mature. Currently, there is no rice breeding program in Missouri, therefore they must use early-maturing varieties produced in other states with similar growing regions. The varieties produced in Missouri are primarily long-grain, which can be used to produce white or brown rice depending on their processing method. Justin is currently running a variety of trials, including variable planting date trials, nitrogen and phosphorus use trials, furrow rice (where they dig trenches and in turn flood the trenches) and tail water re-circulation. All of these trials are designed to optimize the growing process for Missouri rice farmers.  
To have a successful rice crop, the crop needs to be flooded at the 5 leaf stage (later drained 14 days prior to harvest). This not only helps with yield maximization, but also weed suppression and Nitrogen management. As the crop is flooded, 120lbs of Nitrogen is applied. This helps increase the nitrogen use efficiency (value of 70%) due to the anaerobic environment under the 2-4" of water. Since rice is a semiaquatic plant, a heavy clay soil works best because of its water holding capacity, and the natural hard pan of the soil underneath the top-soil.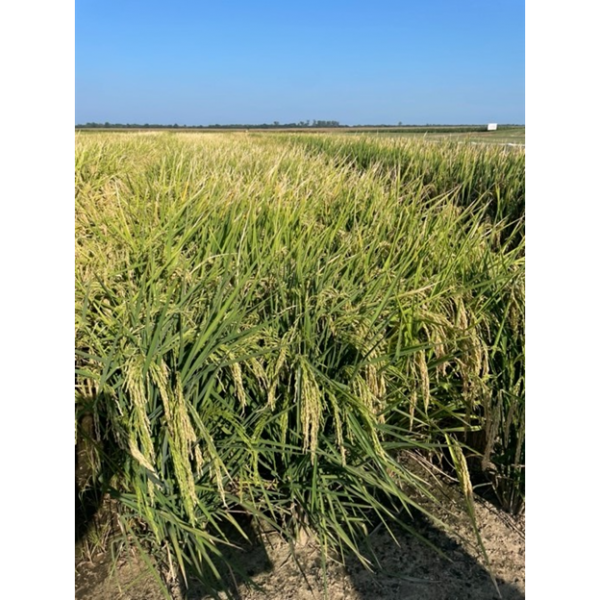 Since rice uses so much water, many operations are looking into using tail water re-circulation systems to better manage the water table and the efficiency in which that water can be brought to the surface. However, at the research centre, they do not use this system because their water table is only 20ft below the surface and easily accessible through water pumps. With conventional water pumping, 36" of water per acre are used each year (not including natural rainfall). The water recirculation pump is capable of reducing water usage by up to 16" per acre used each year. A recirculation pump pumps the tail water or irrigation run off back onto the field and is considered a best management practice in terms of water conservation. However, since the water wells are so shallow (~50') in the Missouri region, rice farmers doesn't typically use the recirculation system because it adds extra cost while water is not heavily regulated for irrigation.  
Rice at the research station is grown in a crop rotation with soybeans, where one season is grown as rice and the next as soy. Following the soybean season, the remnants of plants after harvest are burnt off to remove residue, reduce the need for tillage and eliminate weed pressure without the need for any herbicide application. Soybeans are also known to help with nitrogen fixation which can help to improve the nitrogen concentration in the soil for rice.  
Interestingly, about 50% of the rice produced in the Unites States is exported around the world. It is because of this that the USA is forced to only plant non-GMO varieties as some countries who import their rice have strict regulations. It is also evident that of the 30+ varieties that America grows, they are all unique in yield and quality, so it is difficult track any one variety and maintain consistency on the consumer end.  
The Fischer Delta Research Education and Extension Centre is performing essential work for the people of Missouri by providing farmers and researchers with data concerning the performance of various cotton and rice varieties and how their growing process can be optimized. It is also providing data on new potential techniques which may become common practice in the years to come, such as cover crop usage with cotton and tail water re-circulation with rice. Overall, we thoroughly enjoyed our visit and learned a lot about the rice and cotton industries in Missouri.