Crop Tour Day 5
After a great buffet breakfast at Orleans Trail Resort and Restaurant we got the opportunity to tour Hammons black walnuts, Americas only black walnut processor. We met up with Mark, Jeff, and Alan in front of the factory, and learnt about their interesting business model. Hammons has been running on the same business model since it was started 4 generations ago in 1946 by Ralph Hammons. In terms of succession planning, the company will be passed down to a nephew in the next few years. This passing down will mark the first time that the company will not be passed down from father to son.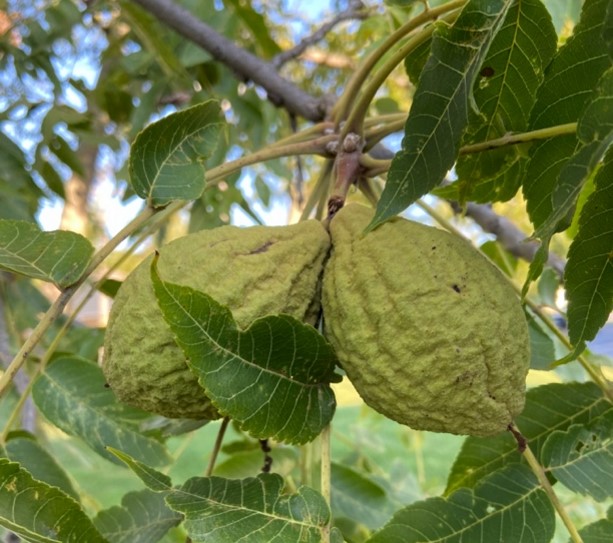 The business model is unique in that their walnut supply is reliant on community contribution. Main advertising strategies include word of mouth, their online presence, and the concept of family traditions. This strategy works well due to black walnuts undomesticated tendency and large space requirements. Black walnuts do not do well in orchards, and it was stated that orchards are not recommended for future use. Thus, the public picks their nuts and brings them to designated hulling locations, where they then get shipped to the plant in Stockton. The nuts get supplied from over 180 locations in 13 different states, however the most hulling depots are in Missouri.
Depots are run during the 6-week harvest season, from October 1st to the middle of November. Dehullers that have been designed and maintained by the Hammons are in multiple areas within the region and are run by businesses that are typically in slower seasons. Dehuller deposits are commonly found at tree nurseries, Amish farms, and feed stores. Hulling locations pay the volunteers for their hulled nuts based on weight after the fibrous hull that contributes ~60% of the total weight has been Picture of black walnuts on a tree removed from the fruit.
Hullers get compensated by Hammons, and get an extra percentage of payment in turn for them stocking and hulling the nuts.
Hammons are uniquely able to market both their main food product and their by-product of the hard walnut shell.
Black walnut meat is marketed mainly as a health food product, due to its high protein content, low saturated fat content, and heart health benefits such as low cholesterol. Additionally, the product is all natural, and contains compounds that are good for bone strengthening and mitigating the risks of cancer.
After a nice debrief in front of the building, we were split into 2 groups and got to tour the facility in action. We saw as the walnuts went through the crusher, where they were broken into small pieces to get the walnut meat out of the shell.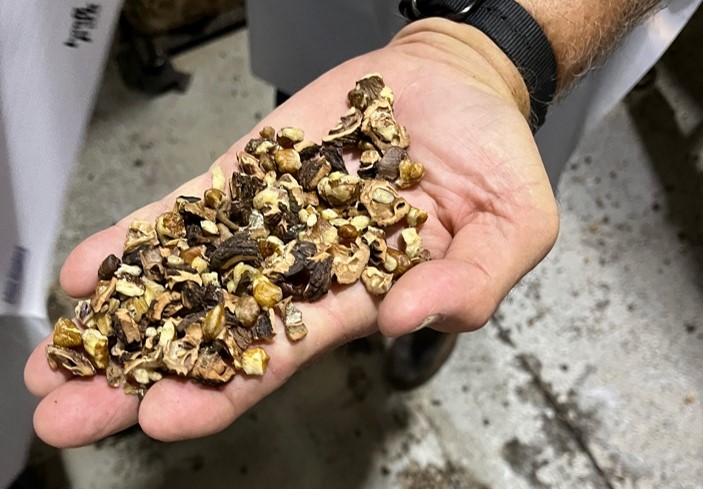 Once they were broken up, the pieces went over vibrating tables to sort the shell fragments from the walnut meat. This is a very intensive process. Then, the nuts were vibrated over a different table where they were finally sorted by size. The 3 marketed sizes include fancy large, recipe ready, and smaller pieces. Following the size sorting, the nuts are visually inspected to ensure that no nutshell fragments remain in the eating product. After the visual inspection, the finished product gets treated with a nitrogen-based gas to prevent oxidizing of the product. This treatment ensures a longer shelf life and a fresher tasting product. If the walnuts are exposed to oxygen for too Picture: walnut pieces after being crushed ong, they will have a more bitter taste. The nuts get packaged and they sit for 2 days in the storage bay, before they move into cold storage at the Springfield Underground. This is an underground storage facility that used to be a limestone mine, which has an ambient temperature of 62 degrees F which also helps to maintain freshness.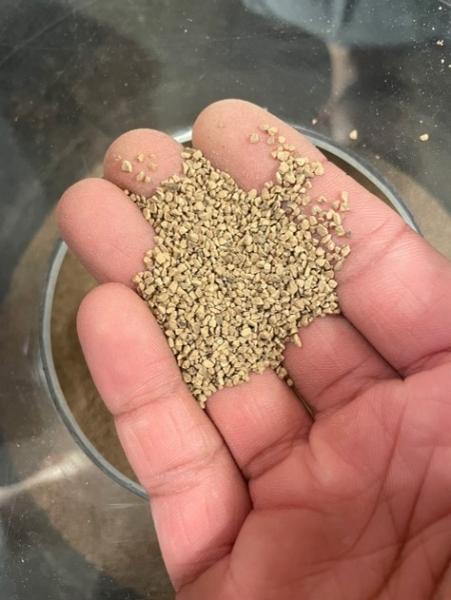 After we saw the finished product, we got to see how the hulling machine worked, and talked about how unprocessed nuts are stored in large grain bins. The auger system in these bins had to be modified to accommodate the larger nut sizes. We also talked about the processing for the by-product of the walnut meat, the hard shell. Hammons grind down the shell into pieces of different sized grit. The advertised benefits of the shell grit include cost effectiveness, speed effectiveness, durability, and environmentally friendly traits.
This by-product has become a significant source of income, and has many industrial uses, including oil filtration, abrasive cleaning, and water filtration properties. It can also be used in smaller scale applications for things such as cosmetics. Recently, it has been getting used as a replacement for rubber bits used in soccer fields.
The only waste product of the walnut production is the hull, due to its tough properties after it has dehydrated. The hull is high in potassium, so it could have potential as a fertilizer solution, however it contains compounds that are toxic to common vegetables and fish.
Some of the common pests that they face includes bag worms, which can impact the health of the overall tree. Another issue is the overall demographic of the volunteer pickers, as the Hammons fear that with age, they might reduce the overall depositing of the nuts.
After thanking our hosts, we visited the Hammons Black Walnut Emporium in town, which is a subsect to the factory containing a shop that sells walnut products, coffee, lunch, and other gifts.
Hammons has a large impact on the local economy, providing employment opportunities to many locals, with a staff of around 80 people. Additionally, the store in town stimulates the local economy, as it provides a tourist stop and encourages people to spend more time and money in town.
It was very interesting to see a successful business running on such an unconventional business model. The Hammons family was able to corner a unique market and create a thriving business out of it.
After a scrumptious lunch provided by the kind staff of Orleans Trail Resort and Restaurant we embarked on a journey to our second stop of the day in Mt. Vernon, Missouri. We were greeted upon arrival by Allison Leisenring and her assistant Brad. This hatchery was established in 1926 and is operated by the state of Missouri Conservation department. This location is one of four warm water hatcheries across Missouri, as well as five cold water locations. On top of the hatchery, they have 13 one-acre ponds, 10 half-acre ponds, and one 3.8-acre solar pond. The solar pond, which can get up to 80º F, is used to moderate the temperatures of the other stock ponds. They also have 12 raceways at the location we visited, bringing the total area of the hatchery up to 40 acres. They raise around 5,000,000 fry and 500,000 fingerlings of walleye, 700,000 fry and 80,000 8-12" channel catfish, 60,000 less than 4" largemouth bass, 200,000 less than 4" bluegill sunfish. They occasionally grow other species such as the fearsome alligator gar, the elusive paddle fish, and the sterile grass carp. It is a lengthy process to mature these fish so that they're ready for the stock ponds, and it all begins in the hatchery.
The hatchery in specific has 3 different types of tanks. Green square tanks that are made of fiberglass are used to feed trainers until they reach 3 inches long in length where they are then transferred to the outside pond environment to continue to grow. There are also square aluminum tanks used for growing catfish up to 1" before they are relocated. Finally, there are many egg batteries, which are used to hatch walleye and channel catfish eggs.
The vast amount of water on site is sourced from a bountiful natural spring that has a flow rate of 500-1,000 gallons of water per minute. If the facility needs more water, they have two separate wells capable of providing 450 gallons per minute each. The average temperature of this is water is a refreshing 56º-57ºF.
This top tier quality is crucial to ensure sport fishing excellence in the State of Missouri. Since sport fishing plays a huge role in the economy of Missouri it is important for them to restock their rivers and lakes with nothing but the best. The government subsidizes this program by taking 0.8% of the tax revenue from outdoor related purchases such as guns, fishing equipment, boats etc., and puts it towards the hatchery. This provides them with the funds for them to operate which in turn bolsters the local outdoor based economy. This investment is huge because fishing alone is approximately a 400-million-dollar industry in Missouri, which is why these lakes must be well stocked.
After this brief overview of the facility, Allison introduced us to the lengthy and detailed process of producing each fish species. Walleye is a common species of fish is the state of Missouri in which Chesapeake Hatchery helps to repopulate. With the use of electrofishing, they sneakily shock and collect both male and female Walleye at night, where they bring back the stock to the hatchery facility. Around the middle of March when the temperature of the water approaches 50ºF, the Walleyes are triggered to spawn. They then inspect the female's eggs with a small piece of tubing. Since most are not ready to produce the eggs, they must inject the females with HCG (Human Chorionic Gonadotrophin) to induce and make the group of Walleye all produce at the same time. This streamlines the process and makes it more predictable. When the eggs are obtained, water is added to the eggs and milt to initiate fertilization. To promote a high success rate, the eggs are stirred with a delicate feather so that the eggs don't get damaged. A mixture of Filler's earth and water is used to keep the eggs from sticking together which prevents fungus from growing on the eggs. The females are transferred to the Egg Battery with one female per jar and are in this setting for approximately a week until the eggs turn mature and grow to around one to two inches long. In the end the Walleye will take approximately 40 days to get to the one to two inches in length before being released.
Channel Catfish are held onsite with males and females kept separate from one another. They are fed every Monday, Wednesday, and Friday with chicken liver and hearts when they are brought inside to the hatchery building. The raceways are where the Channel Catfish will spawn. The temperature is regulated and will increase by one degree each day until it reaches 78 degrees Fahrenheit, which is usually around the first week in April. The fish will first be injected with a anesthetize for easier handling and better care for the fish. They are then injected with the same HCG as Walleye to induce spawning. The females will be placed in a spawning pen with a male of similar size and occur 48 to 84 hours after the second dose of HCG. The females can produce one to three pounds of eggs per female while there is approximately 10,000 eggs per pound. This type of fish will get to eight to twelve inches in length before release.
Large Mouth Bass are kept over winter and fed every Monday, Wednesday, and Friday. They are fed specific fish food while also getting the forage fish of Blue Gill Sunfish. This type of species is often referred to as cannibalism. They will eat anything smaller in size then them, even their own species. The temperature of the water will increase to 67ºF to start spawning. There will be 10 pairs per raceway and will start to lay their eggs on a spawning mat made from coconut fiber. They will bring mats inside the hatchery when it's time for the eggs to hatch. They will spend 29 days before being transferred to the fiberglass tanks with 500-1000 fish per tank. They will be two to three inches before being released.  
Grass Carp is native in Asia but is use for aquatic vegetation management in the state of Missouri. They bring in approximately six adult fish that are held at the facility and move them from the ponds to the raceways to prepare for spawning. They are separated into male and female groups around June. Water temperatures get elevated from 70ºF to 75ºF. They will get an injection similar to the Walleye process. This species produces millions of eggs per female as they are very tiny in size. These have a 10% mortality rate. They are placed in the egg battery for 24-48 hours where the water is circul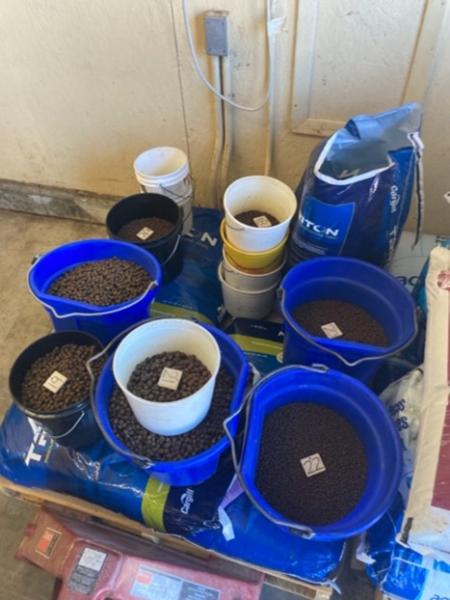 ated. This is so that they will not be stuck on the bottom of the tanks and die. It will take approximately one month for the fish to grow to two inches where they will then be transported to restock the waters of Missouri.
Blue Gill Sunfish is a less demanding fish when it comes to the facility. The hatchery itself does not breed this type of fish but does feed them and will use them to feed mainly their Large Mouth Bass.
They produce some specifies occasionally which include alligator gar and paddle fish. These have been removed as the state thought they were harmful but are trying to restore the Mississippi river as they have found them to be very helpful in regulating and keeping a healthy equilibrium in the food chain.
The outdoor ponds at the facility are prone to predators eating the fish. These predators include otters, raccoons, mink, eagles, and muskrat. Since they are all considered pests they are given permission to kill them, but they normally try to scare them away first.
After listening to Allison passionately speak about her role and the fish that is produced, she took us on a short tour of the rest of the facility. First stop was the feed area which houses all the feed needed for each fish at the different stages. The feed is mostly made of fish meal ranging between a variety of sizes. In terms of feed, they have programs that meet the needs of each species. They also use excess fish as forage which will feed the larger stock.
Lastly, we strolled over towards the ponds and discussed them more in detail along with their methods of algae control. The ponds are over 50 years old and are between three and eight feet deep. They each have water circulation system to pump oxygen into water and keep the water from becoming still and growing more algae. Allison says they use two different copper-based products to control the algae within the ponds.
After taking a group photo with Allison and Brad we begrudgingly headed back onto the bus and braced ourselves for the 4-hour drive ahead to Wichita, Kansas where we crashed for the night. Follow along as we adventure deeper into the heart of Kansas to tour a cotton gin and a colossal 'Merican dairy operation tomorrow.