Snap, Crackle and Pop
By: Christina Prelaz, Jared Lawson, Kurtis Pilkington, Maggie Linton and Chanditha Priyanatha
Summary of the day
After sleeping in for the first time in a while we departed from Poplar Bluff, Missouri at 8:30am for day 12 of the 2019 Midwest Crop tour. We were joined by Dr. Sam Atwell, a former extension agent with the University of Missouri. We were officially in the Bootheel, a diverse landscape unlike our own in Ontario or the Ozark mountains we were coming from just yesterday. With a short drive, we soon arrived at our first stop of the day: a local farmer Scott Wheeler's operation, where we learned about rice production. Dr. Sam Atwell began with a brief background of rice, a crop that is very unfamiliar to most of us. After much discussion about agronomy, the markets and equipment used in the cultivation of rice, we loaded back on the bus and headed down the road to explore a rice field. We had an up-close look at the rice. We split into small groups and had the opportunity to ask many questions from the growers and faculty. With an abundance of discussion, our rice stop came to an end and we bid farewell to Scott and his associates to be on our way to our next stop.
After another short drive we arrived at Lambert's, a local restaurant for a very unique dining experience. The atmosphere was quite unlike the regular fast food lunch stop that we have become accustomed to. With hot buns thrown across the restaurant to the bowls of shareable sides and the huge meals, we were more than stuffed loading the bus for our second stop of the day.
Around 1:15pm we arrived at Wade and Danny Parker's farm where we learned about cotton production. Parker Brothers Farms has about 7500 acres split between cotton, soybeans and corn. Cotton is their main crop, grown across 4500 acres as it is their breadwinner. Wade and Danny explained to us the agronomic practices, markets and equipment pertaining to cotton, with the aid of Dr. Sam Atwell. Seeing the cotton picker started was a highlight for many people, shortly after we headed across the road to see the cotton field. After rounds of questions in the cotton field while taking a closer look at the crop, we found the nice shade of a tree to take a seat  under. We then listened to presentations from Dr. Michael Milam, an extension agent with the University of Missouri who specialized in cotton, and Heather and Cooper from Farm Credit. After learning about their role in the area we had the opportunity to ask a few final questions before a large and warm thank you to our cooperators for the day. Finally, we hopped on the bus to continue our journey to Effingham, Illinois. After some more sleeping, working and of course fun times on the bus we finally arrived at our hotel around 7:00pm to refresh for our last day of tours starting bright and early the next day.
Stop 1: Rice Production
Dr. Sam Atwell connected us with Wheeler Farm's where we were greeted by Scott Wheeler, his family and consultant. Scott is the fourth generation in the family farm, farming about 1100 acres. They have been farming rice since 1974. In the early 1970s the government had removed the allotments for rice cultivation, which were in place to dissuade oversaturation of the market, allowing more farmers to grow the crop.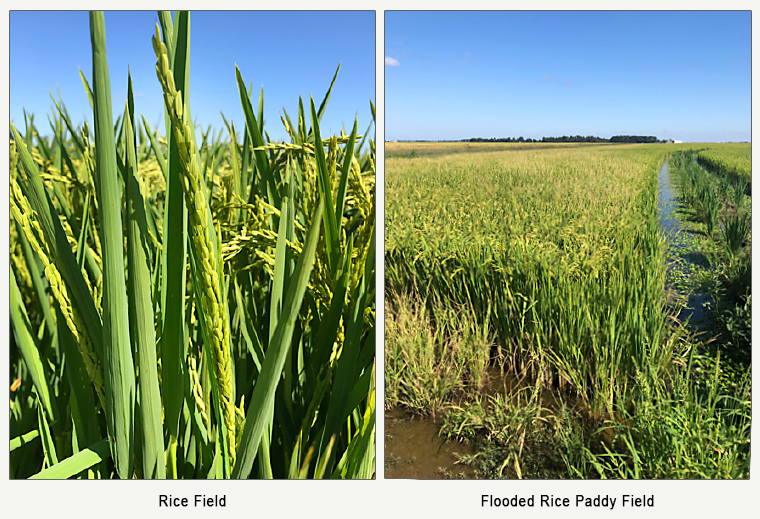 As an aquatic plant, water is essential in proper rice production. The rice farm is located in Ozarks region and is on top of three different aquifers. Ground water is only 10-12 feet from the soil surface and compressed by the nearby Ozark mountains, allowing for high water pressure. This farm solely does paddy rice production, however there is a movement towards row rice production.  Paddy rice production involves flooding the fields by laying poly-pipes with holes, around the perimeter of the field. As well, grading and leveling the soil allows for a uniform amount of water throughout field.  Since there is a surplus of water in the area, rice farmers have no concern about running out of water. This allows farmers to continue to have the field flooded with the ideal 2-4 inches of water, without any apprehension. It is also critical to properly flood the field with water. If cold water is used it could stunt the growth of the plants, while if too much water is used, it could drastically decrease yield. An important aspect about paddy rice production is that since the field is contained, there is a very small amount of nitrogen runoff. Nitrogen has a much larger chance to be used up than contaminating the surrounding area's water supply. As a precautionary measure, they monitor the water in the ditches to ensure no nutrient runoff occurs.
Rice production has undergone significant change and seen the development of completely new agronomic practices in the last few decades, particularly in the case with row rice production. As Scott Wheeler mentioned, just 10 years ago producers could not have imagined growing rice on some of the coarse sand soils they are now able to. Utilizing more robust hybrids, farmers have been able to move away from the flooded paddy production model and move to lighter soil types with rice planted in rows. These fields utilize furrow irrigation between the rows of rice which are planted on slightly raised mounds. This places a unique set of stressors on the rice plants but also saves time and labour, reducing the number of passes needed across the field with farm equipment by five. With row rice production water is not held stagnant in a paddy but instead is constantly running out of the end of the field. This greatly increases the amount of water used to irrigate but also means that there is greater potential for nutrient runoff. Furrow irrigated rice also yields less than paddy grown rice due to issues with water deprivation and increased weed, pest and disease pressures. Despite this, the savings in labour and time are enticing more producers to switch to this production system. University of Missouri professor Sam Atwell estimates that 30% of all rice production in Missouri is now grown in the row production system signaling its importance in the future.
An important part of rice production is the decision between what variety to grow, this impacts the potential marketing opportunities for the crop. Rice is categorized between traditional and hybrid varieties. The majority of producers choose to grow hybrid varieties which are hardier and yield more. Additionally, rice varieties can be categorized by size of the grain: short, medium and long grain rice. Finally, producers can also grow aromatic rice which is prized for its scent and flavour. Aromatic rice is a higher value crop but yields less than other varieties. Scott and his family operation plant two different varieties, Jasmine rice, an aromatic rice, and medium-grain hybrid rice which is processed into puffed rice. Jasmine is considered a specialty crop and so earns a premium price but will only yield around 160 bushels per acre. Meanwhile a hybrid variety will commonly yield 200 bushels per acre. The Wheelers grow their rice under contract with a buyer and use the river system to transport the rice to other markets.
Stop 2: Cotton Production – Parker Brothers Farm
Our second stop of the day was at the Parker Brothers Farm, a cash crop operation focusing on cotton. Wade, Danny and other family members together crop around 1100 acres, 4500 in cotton and the rest in corn and soybeans.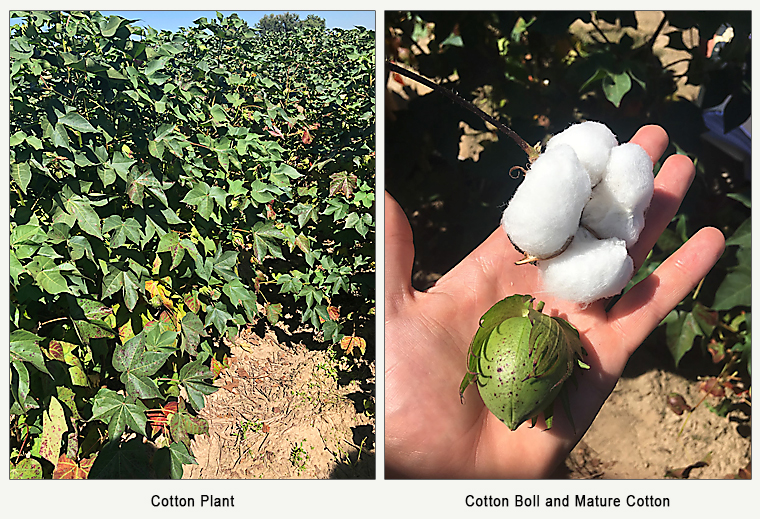 An emerging theme that we have observed has been that of shortage of labour. Danny explained the struggle they have finding labour as many people do not want to work 60 hours a week for an average wage of $10- $12/ hour. This problem originated in the 1960's when the first cotton-pickers were introduced. Though inefficient by modern standards, these machines were more efficient compared to the human labour force that was employed to harvest cotton by hand. This led to a displacement of the labour force by machines as more sophisticated and improved machinery started to emerge. Because of this and an ever-growing market, the scale of farming also grew leading to a reliance on machines to get the job done with minimal labour input. The Parkers took advantage of this opportunity, by purchasing cotton pickers to travel to Texas with each year to custom harvest. As time passed and the margins didn't line up they began to focus solely on their own operation, now owning 5 cotton pickers. The socioeconomic impacts of this was a key factor in the changing landscape of both rural and urban communities. The shortage of work in rural areas meant that the residents of these locales were forced to seek out opportunities in other regions, with cities becoming more attractive for employment. The cascading effects of this are felt to this day as farmers in predominantly rural areas struggle to source the labour force that is required to run the daily operations. On the other hand, agricultural practices and machines continue to become more efficient and automated, further widening the issue.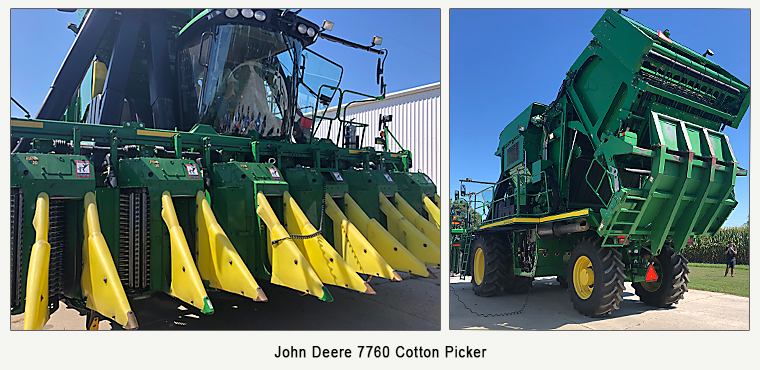 Unfortunately, due to the ever-thinning profit margins, farmers are now forced to make a choice between crop rotation vs economy of cost. Though crop rotation is an ideal way to keep herbicide resistance and insect pressures at bay, they are now forced to farm the same crop, year after year, to ensure profit generation, if not breaking even. Dan and the Parker family face a similar situation and their decision to forego rotation is starting to make an impact on the family's cotton farm. Dan can make more money per acre growing cotton than corn or soybeans, therefore, he is less inclined to grow anything but cotton. The Parkers do realize the importance of rotation and attempt to switch to corn or soybeans after 3 consecutive years of cotton; however, some fields have had 15 years of consecutive cotton production. Given the enormous expenses involved in cotton farming such as equipment and labour costs, farmers have no choice but to continue with monoculture. In the long-term, this may significantly affect their opportunities to generate revenue as the likelihood for resistant pests and diseases increase.
In response to a student question, Cooper, from Farm Credit mentioned that there will be consolidation across the cotton industry in the United States with regards to producers. This sentiment was also emphasized by Sam Atwell from the University of Missouri, who mentioned that fewer farmers are responsible for farming more acreage, as compared to that of the past. Due to ever decreasing profit margins and increasing input costs, it becomes more challenging for small-scale producers to balance their finances and generate revenue. Cooper predicts that this will lead to the small-scale operations getting swallowed up by bigger producers, with fewer producers farming and utilizing more acreage.
Critical Thinking
Over the past week and a half of visiting different farm operations, ranging from feedlots to the Chicago Mercantile Exchange earlier on in our trip, we have heard sentiments of an ongoing and pending consolidation across different sectors in the field of agriculture. From the VP of Research at ADM Group, Steve Fried to Mitch Stuhr at the Green Plains Inc. ethanol facility in York, NB, and Sam Atwell and Cooper, a shared vision for the future was one of consolidation where the small-scale producers are unable to stay in the competition. Furthermore, this may explain the notion that within the next decade 25% of producers in the United States may be out of business. Though alarming and scary, this stark reality of the impending doom reflects the current economic landscape globally: high rates of inflation and interest on loans resulting in an inability to cope with the financial burdens to turn a profit for long-term sustenance. An outcome of this could be bigger and more industrialized farming operations with further monopolization of commodities in the global market. While a boon to some, this may be the bane of the rural farmer with a few meager acres!
Today it was clear at both stops that tight margins and limitations in time and labour are key drivers of production practices. However, these gains in efficiency sometimes come at a loss in sustainability. Irrigation in row rice production is an example of this, time and labour can be saved by furrow irrigation. However, allowing water to run out of the field increases water usage and increases the potential for nutrients to runoff into waterways as they are washed off the field. Additionally, while at the Parker Brothers Cotton Farm, Danny and Curt explained that while crop rotations are the best practice for preventing pest and disease resistance, tight margins necessitate that cotton be continually grown on their best ground to cover expenses.
 The occasional trade-off between sustainability and efficiency was also apparent elsewhere on this trip. While in the territory of the Ogallala Aquifer, producers discussed how while irrigation slowly depletes the aquifer, the poor market prices for crops and increased yields enabled by irrigation necessitate the practice. Likewise, in Ontario excess nitrogen application, particularly in corn, can lead to runoff of nutrients that the crop is unable to uptake. While it is important to produce a high yielding crop, this nutrient runoff can create toxic algae blooms in waterways. To a producer, the most important thing is that they are making money, a business cannot continue unless it is profitable. However, finding a balance between economic efficiency and environmental sustainability is key to ensure the continuation of successful production into the future. 
As margins become tighter in agriculture, farmers are beginning to look to outside help as there is a need to become more efficient and productive as producers of the worlds food supply. Although it is said that cotton farming and rice farming are extremely different and neither can be done in the same cropping rotation; there are still many underlying similarities between both systems. One of the largest similarities that was noticed overlapping from both farms was the use of specialized consulting companies, as well as, employees that become specialized in certain areas of the farm.
On Scott Wheeler's operation we saw everyone involved in his operation from his experienced agronomist that was heavily involved, equipment operators that handled day to day operations and Sam Atwell a retired University of Missouri extension that was also very knowledgeable. On Parker brothers farm you saw his veteran agronomist that was doing weekly fields scouts, University Extensions, equipment operators, Cooper and Heather who were from Farm Credit handling financials. It takes more than just a farmer and land owner to produce high quality crops.
The use of specialized help on farms has been a common theme throughout the tour with people like Jay Wolfe from Wagonhammer Ranch, hiring employees to handle genetics and sales of his cattle. Vets and nutritionists on previous farm tours of Royal dairy and Five Rivers feedlot, making sure animals are healthy and productive. This specialized help is a must in today's agricultural world because of the razor thin margins which is forcing producers to become larger and more efficient in day to day operations.