All Good Things Must Come to An End
By: Robert Levac, Sarah Long, Olivia Noorenberghe and Kyle Roelofs
Summary of the Day:
Our final two tours of the Midwest Ag Crop Tour began bright and early with a 6:30 am departure from our hotel in Effington, Indiana. We were a lively bunch as we made the two-hour drive to our first stop of the day in Clay City, Indiana. The first stop of the day was at a farm called "The Farm Connection".
The Farm Connection is a family run operation that produces unpasteurized milk products and heavily concentrates on a conservation minded approach to agriculture. We were met at the farm by Alan and Mary Yegerlehner and their daughter Kate Cobb, as well at their cute little border collie Silas. Alan spoke with us about the history of their farm and the changes they have experienced over the years. Their mixed operation was once grain based, but in 2000 the family decided to move entirely to a pasture-based system where they now graze beef cattle, feed seasonally milked dairy cows, hogs, and laying hens.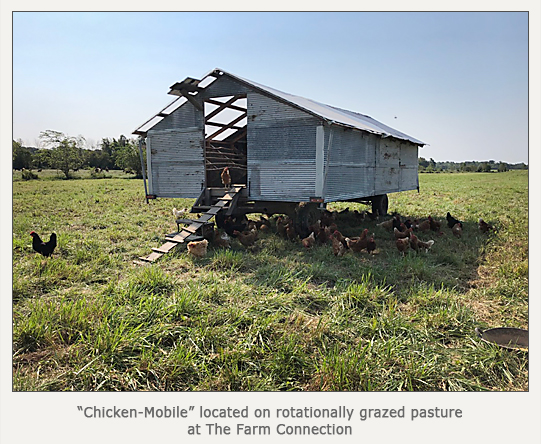 The Yegerlehner family has a herd of about 100 head in which they rotationally graze on approximately 200 acres of pasture.  We had the opportunity to walk into the pasture and learn firsthand about their pasture management techniques. We also got to see Silas in action as he "herded" the cattle and brought them closer for us to see. In the pasture, we also had the opportunity to see the family's "chicken-mobile" in which they have approximately 90 chickens which are rotationally moved along with the cattle in the pasture.
After the pasture, we visited the parlour, the food processing room, and stopped by the family's store for the opportunity to buy some ice cream, milk and cheese products! Eventually it was time to say goodbye and we headed towards our next stop in Oaktown, Indiana.
Melon Acres was our next stop of the day. This family farm is run by the Horrell family and was established in 1976. Norm, an employee of the farm who has worked there for over 30 years, was our tour guide and showed us around the operation. We had the opportunity to see the farm's various fields which consists of 1000 acres of produce crops and 2000 acres of row crops. We also learned about the farm's migrant worker program and post-harvest processing on the farm. And just like that, our final tour on the Midwest Ag tour came to an end. We said thank you to Norm, and began our long journey home back to Guelph, Ontario.
STOP 1: The Farm Connection
The first theme at "The Farm Connection" was the presence of vertical integration and multiple purposes for every animal or product. The first example of this we saw was in their cattle breeds. They're neither bred for milk or beef but somewhere in between. The cattle were a mix of shorthorn, Dutch belt and Devon. They spend most of their day on rotated pasture ground and about 30 are milked once per day. To add value to their product the milk is bottled unpasteurized and is often processed into a variety of cheeses and butter. The cattle stay on pasture until they're around 14 years old and then are sold for mostly ground beef. The by-products from milk processing are then fed to the 10 pigs that were on farm. The chickens on farm are also dual purpose as they're pasture raised for eggs and then later sold for meat. To manage the cattle manure, the chickens also work through the manure and eat fly larvae and other insects in the grass. This lowers the fly populations around the cattle. All products produced at The Farm Connection are either sold in their personal shop or marketed online and personally delivered to drop-off sites.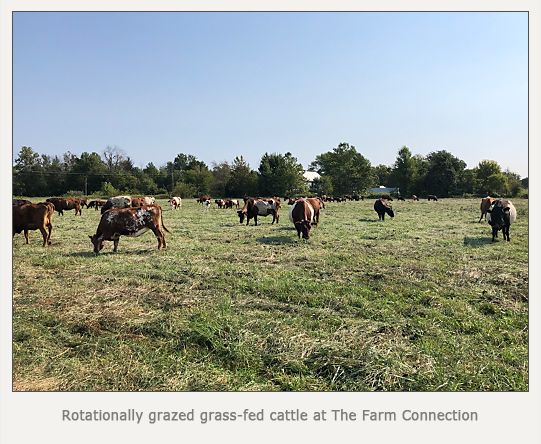 At "The Farm Connection", pasture management is key to cow productivity and health. Almost all of the feed for their cattle comes from grazing, except for the potential need for bale feeding in harsh winter conditions. This makes pasture management that much more important as it is their only source of cow feed. Alan runs an intensive rotational program; this means that he needs to constantly be moving the cattle between paddocks to allow for adequate feed intake while not removing too much plant life from the field. While many pasture managers run a strict schedule for rotating paddocks, Alan prefers to depend on what he sees daily and chooses to move the cows from paddock to paddock as he sees fit. He does however still follow a typical grazing pattern where rotations are short in the spring and get longer heading into the summer and fall. The pasture management has been proven to be strong as Alan has not had to reseed any of his grass in the last 20 years.
STOP 2: Melon Acre Farms
One of the concepts that we learned at this stop was the reason why vegetable and fruit crops are grown in this geographical area. A common theme in this stop, as well as many of the other stops throughout the Midwest Crop Tour is the challenging effects of weather. When asked what one of Melon Acres biggest challenges were, Norm replied "both labour and weather." However, the sandy soil type in Oaktown, Indiana, allows for optimal drainage when large rains are encountered. When the dry weather hits, Melon Acres is lucky enough to also have the option to use irrigation. Both unrestricted irrigation volumes and sandy soil type assist in the productivity of the crops Melon Acres grows.
However, even with irrigation and sandy soil, some crops don't always do as well as others. For this reason, another main theme that was prevalent throughout the tour was the importance of the diversification of crops in their enterprise. Melon Acres specializes in the production of various fruit and vegetable crops such as watermelons, cantaloupe, asparagus, tomatoes and sweet corn. By having various crops, they diversify their operation and therefore reduce risk of possible low market prices for any single crop. Norm mentioned that even with asparagus being their best crop this year, it wasn't their most profitable. Melon Acres has also tried creating butanol and compost from their discarded fruit, but found this wasn't profitable for them. Along with diversifying their crops, they also have multiple sales strategies. Along with contracts with Kroger and Meijer, Melon Acres also sells their produce in a produce stand on farm and through Communities Supported Agriculture (CSA) boxes. CSA boxes contain various produce items and recipes that are delivered weekly at community centers such as hospitals. Locals may purchase a yearly membership and select the products they desire. Diverse crop selection and sales outlets allow Melon Acres to be secure and successful. Diversification is a common theme found across the agriculture industry and this allows for more innovation so we can become better stewards of the land.
Another major concept that we learned about at Melon Acres is how they manage their farm with migrant workers. They use a H-2A visa which allows a foreign national entry into the United States for temporary or seasonal work. Melon Acres uses a contractor to find and transport workers from Mexico. There is a large amount of paperwork that must be completed by employers in order to acquire workers. This includes providing documents proving that there are not enough local workers to complete all of the tasks on farm, a detailed explanation about what tasks the workers will be completing and a source of housing for the H-2A workers. Melon Acres has had a lot of success in using the H-2A program, employing approximately 100 migrant workers.
Melon Acres also tries to foster a create a safe and welcoming work environment through a variety of tactics. The company pays their workers a competitive wage weekly. Alongside this, they are paid on an adverse effect wage, meaning that they paid a fair wage compared to the local workers. Melon Acres also supplies transportation to Washington, a local city, where employees can shop for groceries, clothing etc. Many of the workers come back year after year, as they are appreciated at the farm. The largest challenge that Melon farms has with the migrant workers is language and communication barriers. Since many of the workers first language is Spanish, it can sometimes be difficult to communicate to them what tasks are needed of them. With this being said, there are enough workers that are bilingual that they can translate what needs to be done to the non-bilingual workers. Melon Acres also provides programs so that the workers can get an education while they are at the farm. This was an initiative put out by the State of Indiana, to allow for a higher educated working class. Overall, Norm was very passionate about the workers that are on the farm, stating that they have a very strong work ethic and he appreciates their hard work and continued dedication to their business.
Critical Thinking:
After visiting the Yegerlehner family farm, it was easy to see that this was not a typical dairy operation. When comparing the farm with our personal experiences in Ontario dairy, there were a variety of differences and similarities. The Farm Connection is a unique operation, as the cattle are a shorthorn based, dual purpose breed, grazed on a rotational yearly basis. This is nearly impossible to attempt in Canada since our winters are too harsh for both cattle, and pasture management is difficult. In addition, dual purpose cattle in Ontario dairy farming are also uncommon, since most dairy farmers solely focus on milk production and maximizing yields which leads to the use of pure dairy breeds. Another key difference between The Farm Connection and Ontario dairy is their housing, milking and feeding facilities. Ontario dairy farms mostly rely on indoor housing of cattle, as it helps reduce heat stress in the summer and shelters the cattle from the winter harshness. This helps dairies provide a constant environment for the cows to achieve productive and consistent milk levels. This is the opposite to the Yegerlehner's farm since their cattle are never held indoors, except when being milked once daily in their parlour. While many concepts seem to be different between conventional Ontario dairy farms and the Yegerlehner's farm, there are still several similarities. The Yegerlehner's spoke greatly about their goal of producing milk with good fat and protein levels. Alan also spoke about feeding a high forage content ration. This is a similar goal on Ontario dairy farms, as avoiding grain diets leads to a more natural diet for a ruminating animal. Feeding forages is thought to be associated with good cow health and can help reduce operating costs on a dairy operation. Overall, it was interesting to see the similarities and differences in this specific management style compared to Ontario dairy farms.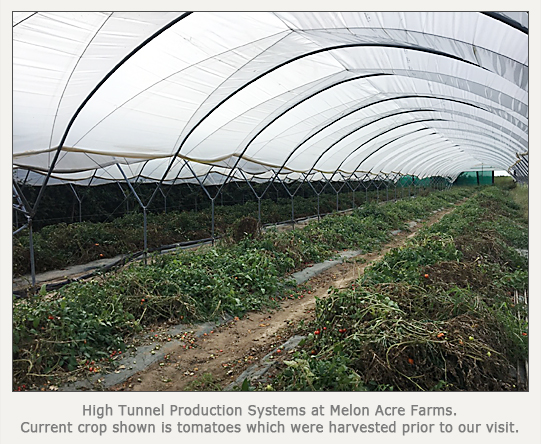 A common concept that has been growing in agriculture globally has been the integration of technology in cropping enterprises. This has been seen time and time again at the different tour locations on the Midwest Ag Tour. At Melon Acres this theme of innovation and technology was seen through the use of the watermelon sorter as it uses special eyes that allow for speciality sorting of the melons based on diameter instead of based on the old school sorter which was solely based on weight. It proves that technology is a process that is continually improving. This process is also similar to a tomato harvester in Ontario as they have "green eyes", that can kick out the immature green tomatoes so they are not brought to the processor to be harvested. Innovation and technology in agriculture has been a key theme across this entire trip. Many, if not all, of the other locations on the Midwest Ag Tour utilize technology of some sort in their day to day activities. Examples of such stops include the Ethanol and Corn Flaker plants. Each of these locations are 100% mechanically run, enabling many of the employees to sit in their office, or even use their phone to process the corn into their respected flakes or ethanol. Another example of innovative technology seen on Melon Acre Farms is the use of high tunnels. This technology is beneficial to farmers and is becoming increasingly used due to the ability to increase growing season, irrigate crops in furrow, and increase insect and disease control. We have seen high tunnels in Ontario when we toured The Jennen Family's Fruit Farm in Thamesville, Ontario last summer at our 2020 Class Reunion. They use the high tunnels for fruits such as strawberries, raspberries and pepper products. This was also seen at Melon Acre Farms as well, but they used it more for pepper and tomato production. It was interesting to see that this technology is becoming of wider use across North America and is helping to diversify cropping enterprises and produce higher yielding crops over a larger growing season.