Agriculture to People: Agronomy, Sustainability and Global Impact
Wednesday, November 16, 2022
---
2022 Program
All times EST.
8:15 AM 
Doors open 
8:45 AM 
Opening remarks from organizers and Corteva Representatives

9:00 AM 

Speaker 1 - Dr. Dave Charne - Corteva Agriscience
 "Productivity and Sustainability"
9:35 AM 
Speaker 2 - Dr. Yvonne Lawley - Assistant Professor, University of Manitoba
 "Cover Cropping on the Canadian Prairies"
10:10 AM
Coffee Break
10:20 AM 
Speaker 3 - Dr. Dan Ramdath - Senior Research Scientist, Agri-Food Canada
 "AAFC strategies and research towards sustainable development in agriculture"
10:55 AM 
Speaker 4 - Dr. Andy VanLoocke - Associate Professor, Iowa State University
 
11:30 AM - 12:30 PM
Lunch 
12:30 PM
Speaker 5 - Dr. Angela Kross - Assistant Professor, Concordia University
 "A geospatial framework for the assessment and monitoring of environmental impacts of agriculture"
1:00 PM
Graduate Student Speaker - Marco Pepe - Ph.D. Student, University of Guelph
 "There's so mush-room for mushrooms: global impact of sustainable mushroom cultivation"
 

1:30 PM

Poster Session

2:30 PM
Coffee Break
2:40 PM
Panel of Professionals (Theme: Academia, Industry, & Government) 
3:40 PM
Closing Remarks / Networking / Ending
---
Speaker Bios and Pictures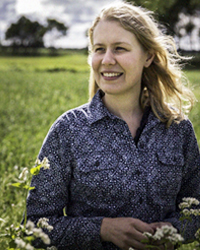 Dr. Yvonne Lawley
Assistant Professor, University of Manitoba
Dr. Yvonne Lawley is an assistant professor in the Plant Science Department at the University of Manitoba. Her area of research is agronomy and cropping systems. Dr. Lawley's research has focused on several crops including soybeans, corn, and wheat and a range of management practices from residue management, strip tillage, to cover crops. Her research involves both small plot and on-farm field scale agronomy research.  Dr. Lawley enjoys communicating the results of her research to a wide range of audiences including farmers, agronomists, scientist, and especially in the classrooms where she teaches at the University of Manitoba.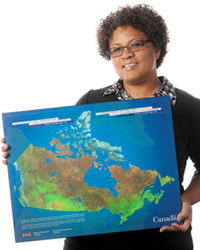 Dr. Angela Kross
Assistant Professor, Concordia University
I am currently an assistant professor in geospatial technologies and the environment at the Department of Geography, Planning and Environment, Concordia University. I hold an Agronomic Engineering degree from the Federal University of Pernambuco, Brazil; and worked within the domain of Organic Agriculture in Brazil before pursuing my MSc. Degree in Geographic Information Science / Remote Sensing at the Wageningen University and Research Centre, Wageningen, Netherlands. I hold a Ph.D. in Physical Geography / Remote Sensing from McGill University, Montreal, Canada. Prior to joining Concordia in August 2015, I was a post-doctoral researcher at the Earth Observation research branch of Agriculture and Agri-Food Canada.
In my research, I use earth observation methods (e.g. GIS, Remote Sensing) in combination with ground measurements and models to answer questions related to ecosystem processes, vegetation development and land use change in response to anthropogenic and natural events, such as agriculture practices, mining activities and climate change. I am using a combination of optical, thermal and radar data to classify crop types, and to characterize vegetation development and health through estimates of biomass, yield, leaf area index, carbon uptake, and phenology (in peatlands, forests, grasslands, crops). I currently teach GIS and Remote Sensing courses at the department.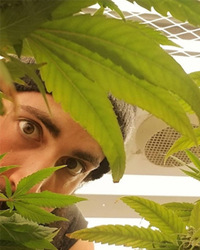 Marco Pepe, M.Sc.
Ph.D. Student, University of Guelph
Marco Pepe is a Ph.D. student studying in vitro biology of cannabis and medicinal/psychedelic mushrooms. Since 2019, Marco has published an excess of 10 peer reviewed, scientific papers related to medicinal plants. Much of his research focuses on optimizing in vitro methods for cannabis by incorporating multidisciplinary methods such as machine learning and gas exchange approaches. In the coming years, Marco plans to make numerous contributions to the fields of mycology and botany by performing cutting-edge research on mushrooms secondary metabolites, developing sustainable methods of mushroom production, and further optimizing in vitro methods for cannabis. This research will have extensive biotechnological and medicinal significance.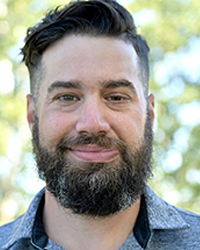 Dr. Andy VanLoocke
Associate Professor, Iowa State University
Andy's passion for atmospheric sciences started in undergrad when a professor showed him the impact the science would make on the world. After getting his Masters and PhD at the University of Illinois at Urbana-Champaign, he crossed the Mississippi to join the Agronomy faculty at Iowa State. His time is divided between teaching both undergraduate and graduate courses and researching how our use of the land might impact agro-ecosystem processes in tandem with global change.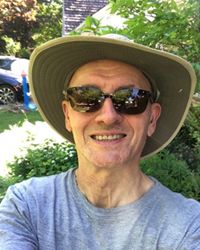 Dr. Dave Charne
Corteva Agriscience
I was born and raised in rural western Ontario many decades ago.  Early in my career, I worked in production ag and forestry, and also spent 4 years in Africa, helping establish small-scale vegetable and poultry production.  After my African experience, I returned to school at U of Guelph and graduated with a PhD in plant breeding in 1990.  From 1988 to present, I have worked in R&D in the seeds industry.  Most of my experience is with canola and sunflower breeding, but I have also been involved with wheat, corn, and soybean R&D at various times over the years.  My wife, Mercy, and I live in Guelph, where we enjoy gardening, walking and talking, and continuous involvement in family events with our 4 children, 10 (soon to be 11) grandchildren and extended family.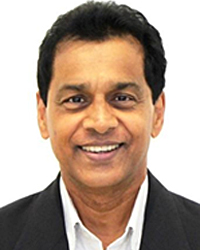 Dr. Dan Ramdath
Associate Director, Guelph Research and Development Centre, Science and Technology Branch, Agriculture and Agri-Food Canada
 
Dr. Dan Ramdath is Associate Director and previously Senior Research Scientist (Human Nutrition) at AAFC's Guelph Research and Development Centre. He has an MSc and PhD in Human Nutrition with postdoctoral training in Clinical Biochemistry. His research focused on validating the health promoting properties of foods to support the regulatory framework for health claims substantiation.
Previously, Dan was Full Professor and Chairman, Department of Preclinical Sciences at the University of the West Indies, Trinidad. His early research contributed significantly to the development of F100 therapeutic products designed to treat severe malnutrition and  development of a standard method to determine Glycemic Index of foods. He is involved in several initiatives that promote the use of credible evidence for health policy formulation, including the development of clinical practice guidelines for the management of persons with diabetes and hypertension.
Dan has volunteered on several WHO/PAHO Technical Committees on promoting healthy eating and prevention of childhood obesity. He currently serves as Scientific Advisor to the Caribbean Public Health Agency and was Vice Chair of WHO/PAHO Expert Committee to establish a Nutrient Profiling Model for the Americas aimed at reducing childhood obesity. He is Adjunct Professor at the University of Saskatchewan and University of Guelph. He is a Fellow of the American College of Nutrition, a Commonwealth Medical Fellowship winner and a University of the West Indies Distinguished Alumni.
---