Historical Roots to Modern Agriculture: Looking to our past to inform our future
---
Tuesday, November 14, 2017
The OAC Arboretum Centre
---
The Guelph Plant Science Symposium is bringing together several remarkable individuals with diverse perspectives and backgrounds to speak about communications in the agricultural sector.
The day-long seminar was completely free to attend, with meals included.
2017 Program
| | |
| --- | --- |
| 8:00 AM  | Doors open (light breakfast) |
| 8:40 AM  | Opening statements and introduction by Frank Technow, Research Scientist at Dupont-Pioneer |
| 9:00 AM  | Talk by Deb Stark -  |
| 9:50 AM  | Break (light refreshments) |
| 10:00 AM  | Talk by Barry Hill |
| 10:35 AM  | Talk by Dave Charne |
| 11:10 AM | Talk by JoAnne Buth |
| 11:45 AM - 12:45 PM | Lunch (sandwiches) |
| 12:45 PM | Talk by Jessica Brady |
| 1:20 PM | Talk  Tim Crews |
| 1:55 PM | Break (coffee and cookies) |
| 2:10 PM | Producer Panel  |
| 3:00 PM | Closing Remarks |
Speaker Biographies
Barry Hill and his wife Cheryle operate Hillsfield Farms, a 2,000-acre grains and oilseeds farm on the Six Nations of the Grand River Territory. He has worked constantly to promote agriculture both as a business and an asset to the Six Nations community. Barry has served as President and/or director of many organizations, including the Ontario Soil and Crop Improvement Association, the Brant County Federation of Agriculture, First Nations AgriGroup, Integrated Grain Processors Cooperative Ethanol Plant and the Two Rivers Community Development Fund.  He's worked in various positions with the Six Nations Economic Development Department and was a columnist with the Brantford Expositor. He has been Brant County Farmer of the year, a BMO Farm family winner and named a Community Treasure. From 1993 until 2003 he taught mathematics and computers at Six Nations Polytech. Prior to that, he had a long career in engineering (P. Eng., ret'd.). He has recently published a book the history of the Mohawk Chapel in Brantford (built in 1785) and it's place in the history of the Six Nations people.
Jessica Brady grew up in Emerson, MB where working with large animals lead her to pursue a degree in Agriculture. Upon completing a Masters degree in Agriculture from the University of Manitoba, Jessica went on to work in agriculture education for several years.
Jessica started with Okanagan Specialty Fruits in early 2016 and is currently in the position of Stakeholder Outreach and Education with the company. Jessica lives on a grain and beef farm near Minnedosa, MB with her significant other Stew, and their dog Norm.
JoAnne Buth is the CEO of the Canadian International Grains Institute. She has spent her professional life in Agriculture and has focussed on bringing the various parts of the value chain together to ensure a sustainable agri-food industry. JoAnne has worked in private industry, for government and non-profits. Prior to Cigi she was a Senator representing the Province of Manitoba and sat on the Senate Standing Committees of Agriculture and Forestry and on National Finance. Before joining the Senate she was the President of the Canola Council of Canada and over the years has served on many agriculture advisory committees in private industry and government. While at Manitoba Agriculture she was the recipient of the "Motivator of the Year" award. JoAnne holds a Bachelor of Science in Biology from the University of Winnipeg and a Master of Science in Entomology from the University of Manitoba.
Frank Technow is a research scientist for breeding strategies with DuPont Pioneer in Canada. In this role, he creates innovative breeding strategies and systems through data analysis, stochastic simulation, and statistical genetics. His other key research focus is on integrating biological modeling with whole-genome prediction, particularly with Bayesian methods. He joined DuPont Pioneer in 2014 as a Postdoc in Iowa, after obtaining a Ph.D. degree in plant breeding and genetics from the University of Hohenheim in Germany. Frank (co)authored numerous scientific publications in areas such as whole genome prediction, doubled haploid technology and precision phenotyping. His aim is to ultimately make a lasting contribution to the global agricultural science community.
Deb Stark recently retired after serving as the Deputy Minister of the Ontario Ministry of Agriculture, Food and Rural Affairs. During her public service career, Deb held several senior positions including Chief Veterinarian for Ontario and Assistant Deputy Minister in the Ministry of the Environment. She also served as Chair of the OPSEU Pension Trust and the OPS Amethyst Fellow at the Queen's University School of Policy Studies. During her time as Deputy, Deb became a champion for women in agriculture, something she continues to support. She is also currently serving on the boards of the Canadian Agricultural Policy Institute (CAPI) and the Ontario Agricultural Hall of Fame. Deb holds a Doctor of Veterinary Medicine from the Ontario Veterinary College at the University of Guelph, and a MBA from Wilfrid Laurier University.
Tim Crews is Director of Research and Lead Ecologist at The Land Institute in Salina, Kansas. Dr. Crews's research focuses on achieving new levels of ecological intensification in perennial grain agriculture that go beyond what is possible in the annual grain farming
systems that feed us today. Before joining The Land Institute, Crews was a professor at Prescott College in Arizona where he developed a program in Agroecology. He earned his Ph.D. at Cornell University in Ecology and Systematics and has been a visiting researcher at CSIRO Plant Industry in Australia and Rothamsted Research in the U.K.
Dave Charne was raised in rural southern Ontario. Prior to joining Pioneer, Dave worked in the forest industry and spent four years in Africa in vegetable production and agroforestry projects. Dave has a Ph.D. in plant breeding from the University of Guelph. He joined Pioneer in 1990 as a canola breeder, working on product development for western Canada, the US, and Europe. In 1997 he became canola research director. In addition to canola, Dave led sunflower research from 2006-2009. Dave lives in Guelph Ontario, where he enjoys gardening, fixing things, and frequent family gatherings with his wife Mercy and their children and grandchildren.
The 2017 Guelph Plant Science Symposium was a part of the Dupont Plant Sciences Symposium series, funded by: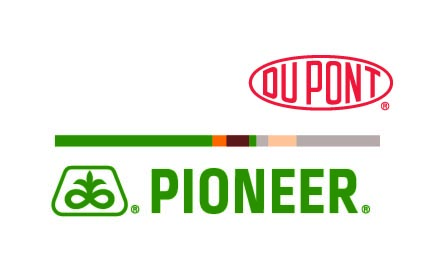 Gold level funding was provided by:

Silver level funding was provided by: