Overview:
Ten faculty and staff members from the department of Plant Agriculture were featured in this month's 2014 Agri-Food Yearbook Edition of Research Magazine. This year's edition features a wide variety of research projects at Guelph, that focus on innovation in the agri-food and rural sectors of Ontario. 
The OMAFRA-U of G Partnership contributes to Ontario's superb food system, and is also an integral part of the University of Guelph research enterprise. This annual Agri-Food Yearbook highlights the University's many achievements. Bringing this project to fruition has been a partnership effort between OMAFRA and U of G, including the writing skills of students from the SPARK program in the university's Office of Research. 
See the online Research Magazine, 2014 Agri-Food Yearbook Edition

Dave Wolyn was featured on page 5 for his research on finding alternative natural rubber products. He found that a type of "Russian dandelion" may be the answer to curbing the current natural rubber shortage.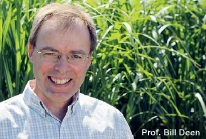 Bill Deen, page 6, is looking at using perennial grasses to create biofuel. These grasses don't need to be planted every year, and have a longer growing season than alternative crops used for biofuels like canola and corn.
Jay Subramanian, page 18, was showcased for his fruit breeding programs at the Vineland Research and Innovation Centre.
Amar Mohanty, page 18, explained how the Bioproducts Discovery and Development Centre is creating sustainable bio-resins to replace traditional plastics.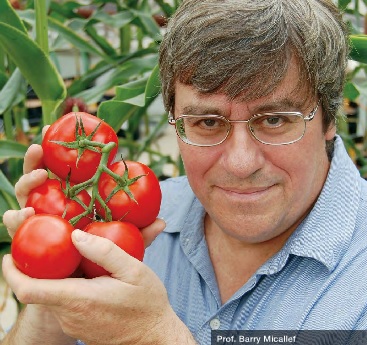 Barry Micallef, page 28, is developing a new greenhouse growing technique for tomatoes, increasing productivity in the winter months. He is partnering with fellow Plant Ag prof. Bernie Grodzinski.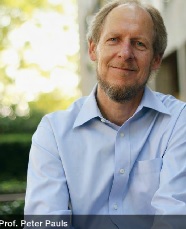 Peter Pauls, page 29, is partnering with Ali Navabi (AAFC) to keep pinto beans lighter in colour after harvest. This appeals more to consumers and results in higher profits for producers.

Laima Kott, page 31, is teaming up with other researchers to examine the benefits of mint in treating osteoarthritis. Spearmint leaves have high levels of anti-inflammatory, anti-viral and antioxidant compounds, which can be effective in treating various medical conditions.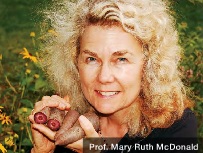 Mary-Ruth McDonald, page 32, is looking at the benefits eating of purple carrots. With five times the amount of antioxidants, this violet variety may soon replace the standard orange carrot.
Francois Tardif and Mike Cowbrough, page 34, have collaborated to create a website called "Field Crop News", which connects Ontario producers to research conducted in the department of Plant Ag with OMAFRA. This new website translates the jargon of research into plain language to be understood by farmers and the general public.
As you can see, a wide range of research is being done in the department of Plant Agriculture. Check out the full magazine online to learn more!
Much of this research is in collaboration with OMAFRA and AAFC.