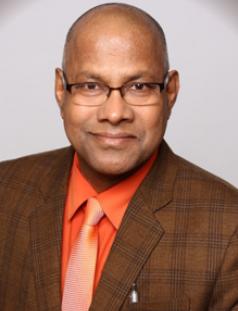 Professor
OAC Distinguished Research Chair in Sustainable Biomaterials;
Email:
Phone:
Education:
B.Sc. Utkal University;
M.Sc. Utkal University;
Ph.D. Utkal University
Location:
BDDC: Bioproducts Discovery and Development Centre
Crop Science Building
Room:
OAC Distinguished Research Chair in Sustainable Biomaterials
Dr. Mohanty has a joint appointment in the School of Engineering, University of Guelph
Biomaterials
Natural Fiber Composites and All Green Composites
Nanostructure Controlled Bioplastics and Hyperbranched Polymers
Nanocomposites (Polymer-clay and Polymer-Carbon Nanotubes) and Nanoblends
Functionalization of Carbon Nanotubes and Clays
Renewable Resourse-based Biodegradable polymers (Polylactides, Polyhydroxyalkanoates, Cellulose esters and Starch plastics)
Petroleum-based Biodegradable Polymers (Aliphatic Polyesters and Aliphatic-aromatic Copolyesters)
Polytrimethylene Terephthalate (SoronaT) based Composites, Blends and Nanocomposites
Reactive extrusion, Injection Molding, Thermoforming and Co-Injection Molding
Soy-based Bioplastics (Soy oil-based Thermoset Resins and Soy Protein-based Thermoplastic)
Polyols from Plant Oils and Biobased Polyurethanes
Biobased Polyesters/Epoxies and their biomaterials
Biodegradable Polymers and Sustainable Packaging
Biofuels, Biorefinery and Sustainability
Value-added Applications of Downstream Co-products from Dry-milling Corn Ethanol Industries e.g. Distillers' Dried Grains with Solubles (DDGS) and Carbon Dioxide as Biocomposites, Bioadhesives and Biochemicals
Value-added Applications of Corn Gluten Meal (Co-product from Wet-milling Corn ethanol Industries) as Biodegradable Plastics and Biocomposites
Value-added Applications of Coproducts from Soy Biodiesel Industries e.g. Soy meal and Glycerol as Biodegradable Plastic, Biocomposites and Biochemicals
New Uses of Lignin and Residual Biomass from Cellulosic Ethanol in Value-added Applications
Pretreatment of Biomasses for Biofuels
Sustainability Issues of Biofuel Industries and Biorefinery
For further information please visit:
https://www.bioproductscentre.com/
Annoucement:

---
Funded Graduate Opportunities available in my research group – M.Sc. in Plant Agriculture*
This graduate opportunity is for graduate students pursuing a Master's degree in Plant Agriculture for the following research areas in my team.
Biomedical Applications for Bioplastics and Biocomposites
3D Printing of Bioplastics and Biocomposites
Bioplastics and Biobased Polymers
Biocomposites (Natural Fibre Composites) and Polymer Blends
Green Composites including Recyclability, Durability and Biodegradability Studies
Biobased Nanocomposites and Nanoblends
Biomass and Biomaterials Sustainability
Value-added Biobased Materials from the Coproducts/Byproducts of Biofuel Industries
Biodegradability (Compostability)
For entry in the M.Sc. program, candidates must hold a Bachelor's degree Science.
If your first language is not English, you will be required to submit the results of a standardized language test. Please see the chart for acceptable tests and required scores.
For more information on how to apply, please contact me by e mail:
bddcjobs@uoguelph.ca with a copy to mohanty@uoguelph.ca
Applications will be accepted on an ongoing basis until the positions are filled.
A preliminary selection will be made based on the interviews to qualify the prospective candidate to apply for graduate studies at the University of Guelph. Selection does not guarantee acceptance for graduate studies.
*Only short-listed candidates will be contacted.
Click here for more details on these MSc opportunities with Dr. Mohanty.
---
Courses:
Relevant Links:
Selected Publications:
Meereboer, K., Pal, A., Cisneros-Lopez, E., Misra, M., & Mohanty, A.K. (2021). "The Effect of Natural Fillers on the Marine Biodegradation Behaviour of Poly(3-hydroxybutyrate-co-3-hydroxyvalerate) (PHBV)". Scientific Reports, 11(1), 1-11. DOI: 10.1038/s41598-020-78122-7.
Meereboer, K., Misra, M., & Mohanty, A.K. (2020). "Review of Recent Advances on Biodegradability of Polyhydroxyalkanoate (PHA) Bioplastics and their Green Composites". Green Chemistry, 22 (17), 5519-5558. DOI: 10.1039/D0GC01647K.
Gonzalez de Gortari, M., Rodriguez-Uribe, A.,  Misra, M., & Mohanty, A.K. (2020). "Insights on the structure-performance relationship of polyphthalamide (PPA) composites reinforced with high-temperature produced biocarbon". RSC Advances, 10, 26917-26927. DOI: 10.1039/D0RA03629C.
Wu, F., Misra, M., and Mohanty, A.K. (2019) "Novel Tunable Super-Tough Material from Biodegradable Polymer Blends: Nano-structuring through Reactive Extrusion". RSC Advances, 9, 2836-2847. DOI:10.1039/c8ra09596e.
Mohanty, A.K., Vivekanandhan, S., Pin, J. M., & Misra, M. (2018). Composites from renewable and sustainable resources: Challenges and innovations. Science, 362(6414), 536-542. DOI:10.1126/science.aat9072.
Pin, J.-M, Behazin, E., Misra, M., & Mohanty, A.K. (2018). Stereodynamic insight of the thermal history effect on poly(vinyl chloride) calorimetric sub-glass and glass transitions as fragile glass model. Physical Chemistry Chemical Physics, 2018, 20, 16333-16346. DOI: 10.1039/C8CP00755A.
Nagarajan, V., Mohanty, A.K., & Misra, M. (2016). Perspective on polylactic acid (PLA) based sustainable materials for durable applications: Focus on toughness and heat resistance. ACS Sustainable Chemistry & Engineering, 4(6), 2899-2916. DOI: 10.1021/acssuschemeng.6b00321.
Reddy, M.M., S. Vivekanandhan, M. Misra, S.K. Bhatia and A.K. Mohanty. (2013). Biobased plastics and bionanocomposites: Current Status and Future Opportunities. Progress in Polymer Science. DOI: 10.1016/j.progpolymsci.2013.05.006.
Mohanty, A.K., M. Misra and G. Hinrichsen. 2000. Biofibres, biodegradable polymers and biocomposites: an overview. Macromolecular Materials and Engineering. DOI: 10.1002/(SICI)1439-2054(20000301)276:1<1::AID-MAME1>3.0.CO;2-W.
For a complete list of publications please visit the Bioproducts Discovery & Development website:
https://bioproductscentre.com/research/publications