The Department of Plant Agriculture emerged in 1998 from the fusion of the Department of Crop Science, the Department of Horticulture Science and the Horticultural Research Institute of Ontario, each of which has a proud history.
History of Crop Science
History of Horticulture Science
History of Horticultural Research Institute of Ontario
Plant Department Takes Root in OAC - by Margaret Boyd
History of Crop Science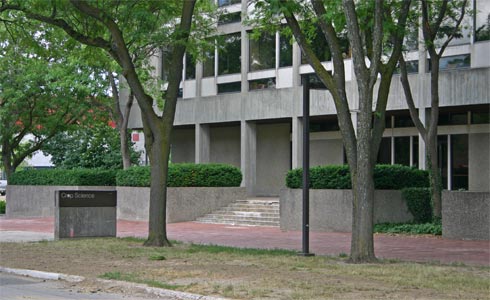 In 1874, the Agricultural College (school) enroled its first students. By 1878, experimental research crop production and service roles of the Institution were well established through the Field Husbandry Department and the emerging Ontario Agriculture and Experimental Union. In 1904, the Department of Field Husbandry became a separate academic unit within the Ontario Agricultural College (OAC), under the leadership of Prof. C.A. Zavitz. The Department continued to evolve with instructional programs (including post graduate instruction through affiliation with the University of Toronto), research and service on behalf of the Ontario Department of Agriculture (Ontario Ministry of Agriculture and Food) until the emergence of the University of Guelph in 1965.
In 1962/63, Field Husbandry became Department of Crop Science. During the next few years, the Department's faculty and facilities grew considerably. In 1968, the present Crop Science building was completed and the faculty complement had grown to 16. The field research facilities were transferred to the new Elora Research Station in 1968 to accommodate the expanding University physical plant. The Woodstock Research Station was completed in 1983, to accommodate expanding field crop research programs.
General Organization
The Department of Crop Science is one of ten academic units within the Ontario Agricultural College of the University of Guelph. During the past 30 years, undergraduate programs evolved within Crop Science. The Crop Science degree program was split into two "streams" in 1990: B.Sc. (Agr.) - Agronomy and B.Sc. - Plant Biology to better service the instructional interests of our students. In addition, Crop Science offers various courses specific to the Associate Diploma in Agriculture coordinated by OAC. Graduate programs have traditionally provided M.Sc. and Ph.D. training in Crop Production/Management, Plant Breeding, Crop Physiology, Weed Science and Plant Genetics/Cytogenetics. The Department in recent years has also contributed through inter-department graduate programs in plant genetics, plant physiology, biophysics and cell/molecular biology.
Research programs have expanded and evolved to address opportunities and problems in major crop production commodities. Crop research programs continue to play a major role in the changing Ontario agricultural eco-system through improvements in crop production/management technologies, crop germplasm and varieties, and plant breeding/genetics methodologies.
The Department of Crop Science is responsible for all or part of six long term research programs contractually funded by OMAFRA : maize, cereals, forages, protein and oilseed crops, weed management, and pastures and grazing management. Each of these programs operates under 4-yr plans with specific objectives and specified resources approved by the Agricultural Research Institute of Ontario (ARIO), with coordination by the Chair of Crop Science or Associate Dean, OAC, for Departmental or Interdepartmental programs, respectively.
The service role of the Department has changed only slightly during the past decades, with major focus on the primary crop producer sector, the associated service and input sectors (seed, fertilizer, pesticides, inoculants, equipment, etc) and the secondary processing sectors (milling, malting, oilseed crushing, elevating and livestock ration, etc, sectors).
Crop Science is inter-disciplinary with individual faculty contributing to plant physiology, genetics, biochemistry/biophysics, agronomy, systematics, cell biology, molecular biology, plant breeding and ecology. The Department's 16 faculty and 40 established staff are supported by annual funding from the Ontario Ministry of Education and Training (MET) and the Ontario Ministry of Agriculture and Food & Ministry of Rural Affairs (OMAF & MRA). In addition, the Department's graduate student body (ca. 59) and temporary support staff (ca. 50-95, seasonally) are funded through a variety of sources including competitive grants and contracts, fellowships and scholarships.
History of Horticulture Science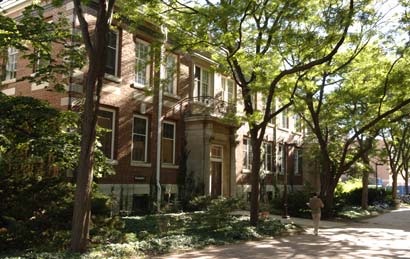 The first Faculty member, Rev. Robert Burnet, President of the Ontario Fruit Growers' Assoc. (OFGA), was Interim Lecturer on Horticulture (part-time) in 1874 and 1875; Thomas Farnham was the first Gardener (Horticultural Foreman) in 1874; followed by John F. Barron, 1875-1880. From 1876 to 1893, the Horticultural Department in the Farm Division continued. The foremen (as above and James Forsyth, 1880-1893) instructed the students in practical horticulture as well as supervising applied research, maintenance of the grounds, and providing produce for the dining halls. The Professors of Biology and Horticulture, J. Playfair McMurrich, 1881-1884, and J. Hoyes Panton, 1884-1893, gave some formal lectures in horticulture and did limited horticultural research, but Forsyth continued independently as Foreman of the Horticultural Department.
Through the years the department has contributed to the formation of many other units. In 1893, H.L. Hutt became Lecturer and Head of an integrated Horticultural Department with academic teaching plus "Farm" responsibilities. In that year, Hutt, as Official Visitor representing an OAC - OFGA Committee, began organizing Experimental Fruit Stations on growers' farm. In 1906 there were only 11 of the maximum of 15 operating, and what was to become HRIO was formed. In 1946 a research station was established on the Holland (Bradford) Marsh; administration of this unit was taken over by Vineland Research Station in 1967-1968. The Department took over the Potato Program, including the Preston Potato Farm, from Field Husbandry in 1960. By 1987 the re-named Cambridge Research Station had evolved into a modern station. The Turfgrass Institute, formed in 1987, had historical horticultural precedents from the 1920's. Other units formed from the department or through departmental initiatives were: in 1957, the Grounds Department; 1960, the Horticultural Correspondence Courses; 1965, the School of Landscape Architecture; 1968, the Food Science Department; 1970, the Arboretum.
Some academic milestones for Horticulture: 1897, first B.S.A. graduate; 1921, first female B.S.A. graduate in OAC; 1927, first M.S.A. graduate; 1932, first Rhodes Scholar at OAC; 1949, first Associate Diploma graduate; 1969 - first Ph.D. graduate; 1994, 1000th Correspondence Course graduate.
In 1991, with a major contribution from the Ontario Fruit and Vegetable Growers' Association, Horticultural Science moved into its fourth home, the Edmund C. Bovey building, which it shares with the Department of Environmental Biology. In 1997 Horticultural Science, the Horticultural Research Institute of Ontario, and Crop Science joined to form the Department of Plant Agriculture. In becoming part of this new department, Horticultural Science loses some of its identity, but may well gain in opportunities for co-operative, co-ordinated, and additive activities.
History of Horticultural Research Institute of Ontario
The Horticultural Experiment Station, as it was then called, was founded in 1906. Part of the original 36 ha was presented to the Ontario Government by M.F. Rittenhouse, a former resident of the Niagara district, and the balance was purchased by the Ontario Government.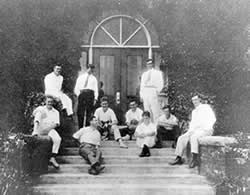 The Research Institute is an outgrowth of the 15 Fruit Experiment Stations established in the 1890's. These stations were established primarily for the testing of new and little known varieties of fruits. As the Horticultural Experiment Station at Vineland took over their work they were gradually discontinued.
From 1906 until 1966, the facility was known as the Horticultural Experiment Station. In 1966 it was renamed the Horticultural Research Institute of Ontario (HRIO). For many years the Institute was responsible for the coordination of all horticultural research and service programs supported by the Ontario Ministry of Agriculture and Food & Ministry of Rural Affairs.
The Station functions were originally to determine varieties of fruit best adapted for growing on the tender fruit belt of Ontario and for the production of new and more valuable varieties. To these were added the investigation of cultural problems, pollination, soil management, pruning, propagation and weed control. The original fruit program expanded to include vegetable crops and ornamentals. In 1947 a Horticultural Products Laboratory was constructed and a 14 ha grape substation established. Research and demonstration work on the 87 ha Horticultural Experiment Station, Simcoe was begun in 1960.
The Muck Crop Research Station (MCRS) was established in 1948 on 3.5 ha in the Holland-Bradford Marsh north of Toronto to examine various aspects of vegetable production on organic soils. MCRS was originally a unit of the University of Guelph but was integrated into the consolidated HRIO system in 1966.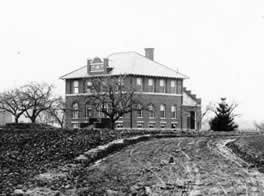 The Institute, comprising 179 ha, was administered until the spring of 1997 as a branch of the Ontario Ministry of Agriculture, Food and Rural Affairs. As of April 1, 1997 the Institute became part of the University of Guelph and is now a division within the Department of Plant Agriculture.
In 1997, the historic connection between the University of Guelph and Ontario Ministry of Agriculture and Food & Ministry of Rural Affairs (OMAF & MRA) expanded into an enhanced partnership. Many responsibilities of the ministry's education, research and laboratories division (ERLD) have now shifted to the University. The partnership is a "natural" combination of Ontario's agricultural education and research resources.
Plant Department Takes Root in OAC
By Margaret Boyd
Collaborative teaching, research to bloom under new partnership
A vital partnership will be created as the departments of Horticultural Science and Crop Science and the Horticultural Research Institute of Ontario (HRIO) become known as the Department of Plant Agriculture Feb. 1.
Designed to strengthen the existing disciplines and provide new opportunities for co-operation in research and teaching, the department will have four divisions - horticultural science, crop science, plant biotechnology and the HRIO (part of the University's enhanced partnership with the Ontario Ministry of Agriculture, Food and Rural Affairs).
"By creating a department with complementary interests, we can get more people working together," says Prof. Tom Michaels, acting dean of OAC. "The amalgamation means there will be more collaborative research in the future. It's an exciting time, and I'd like us to build on camaraderie and increase the synergy."
Michael says the mission of the new department - "discovery, application and instruction focused on improving crop and horticultural plant agriculture" -- is critical to its success. In particular, the new division of plant biotechnology, which has broad applications in the crop and horticultural sciences, will benefit from a collaborative approach. "The amalgamation will increase the visibility both on and off campus of plant biotechnology as an academic discipline and as a research strength within the University," he says.
The new department's emphasis on collaboration is extolled by both the existing department chairs and the HRIO director.
"The strongest reason for creating the merger was to bring together a critical mass of plant scientists, particularly in biotechnology, so they could work together, share facilities, share expensive equipment, share ideas and create improvements that all of plant agriculture can use," says Prof. Dave Hume, present chair of the Department of Crop Science.
"It represents a great opportunity for horticulture," says Alan Sullivan, chair of the Department of Horticultural Science. "It's going to bring us closer to the HRIO and create a good blend of applied and basic research. It will help co-ordinate horticultural research across Ontario."
"The HRIO's traditional role of applied research and services will be strengthened and enhanced through research scientists being faculty members in the new department," says HRIO director Frank Eady. "This will provide opportunities, within one departmental structure, to provide research that seeks, identifies, develops and applies solutions that will enable Ontario's horticulture industry to remain competitive and realize opportunities in world markets."
The Department of Plant Agriculture will be governed by a chair and advisory executive committee. Relocation of departmental members to a renovated and expanded facility will occur in the near future. Faculty and staff on campus will be housed in a connected Crop Science/Richards Building with renovated and expanded research facilities and in the Bovey complex. Off campus, existing HRIO facilities will remain. Land resource science faculty will relocate from the Richards Building to the Bovey Building and Graham Hall with renovated and expanded teaching facilities to replace those lost in their relocation.
Sullivan notes that the amalgamation will provide positive opportunities for both undergraduate and graduate students. Undergraduates will benefit from the increased flexibility in choosing an area of study, and graduate students will be exposed to a broader range of applied research.
Hume adds that the new department is "no small potatoes." There are currently 48 faculty, 90 graduate students, a total of more than 250 employees, more than $10 million a year in research grants and contracts, research at six different stations and a responsibility to provide leadership in an industry in Ontario worth more than $7 billion annually.
Eady notes that HRIO research scientists and Guelph faculty have enjoyed an ongoing relationship for many years and that a number of graduate students have done research at HRIO facilities over the years. "The new department will result in an increase in graduate student activity at HRIO facilities, and this is one of the many positive outcomes that we anticipate," he says.
The presence of the HRIO in the department will increase opportunities for collaborative research on specific commodity crops. The HRIO station at Vineland has access to the tender fruit- growing area, and the muck research station at Bradford will provide an opportunity to work on muck soils and crops.