Vineland Fruit Research Day and Field Tour
Overview:

Yesterday the Vineland Research and Innovation Centre (VRIC) opened its doors to welcome nearly 50 members of the Plant Ag Department to their historic orchards and research facilities.
Faculty, staff, grad students and families piled into a big yellow school bus and made their way down to the rolling fields and orchards of the Niagara area to take a look at the mysterious and elusive Vineland Research Station that is a part of the Department of Plant Agriculture.
At the Centre, which resides an hour and a half drive from Guelph's main campus, visitors got a glimpse of the inner workings and innovative new projects underway both in the lab, and in the field. Visitors were treated to peach, plum and apple orchard tours, informative talks on Vineland's history, business strategy and current research, and a picnic lunch outside on the picturesque grounds.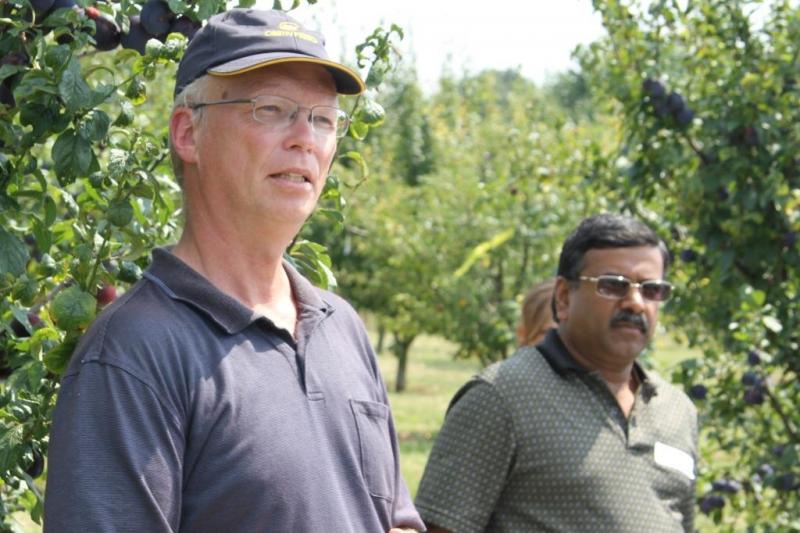 Located in Ontario's Niagara region, the Vineland Research Station was established in 1906 and is now partially affiliated with the University of Guelph. Jay Subramanian is the only faculty member residing at Vineland, however more than 150 researchers and scientists work for a number of affiliated partners including: Agriculture and Agri-Food Canada, the Ontario Ministry of Agriculture, Food and Rural Affairs and the University of Guelph.
Long-time technician at the station Glem Alm (left) shared his knowledge and spoke about the process of fruit tree breeding and selection.
The Centre aims to "deliver innovative product and production solutions that address the needs of the horticulture industry and advance Canada's research and commercialization agenda".
At the end of the day, visitors eagerly filled bags of peaches to take home and enjoy!
A big thanks to Vineland grad student Carolyn Dowling for organizing the event.