Overview:
OAC Bayfield soybean has been named 2013 Seed of the Year for Eastern Canada.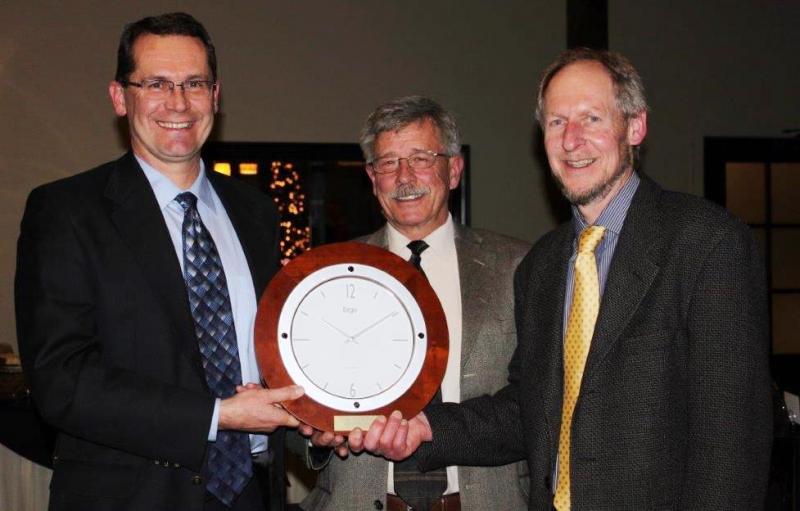 Photo: Presentation of clock to commemorate the 20th year of commercial use of OAC Bayfield soybean; Dr. Istvan Rajcan, current soybean breeder, Guelph Campus, Dr. Wally Beversdorf (retired) who directed the breeding effort, and Dr. Peter Pauls, Chair of Plant Agriculture, University of Guelph.
OAC Bayfield is one of a kind variety that has contributed to agriculture in Ontario in many different ways. It was developed by a group of researchers from the University of Guelph led by Professors Wallace Beversdorf and Jack Tanner. The initial cross was made in 1985 between KG60 and Bicentennial, which were some of the best cultivars available to Ontario farmers in that year. The variety was released to public in 1993 through SeCan and has been grown for 20 years; rare for a variety of soybeans. A presentation dinner organized by SeCan was held 27 November 2013 which recognized its 20th year of commercial use. For more details, follow this link: 2013 Seed of the Year.
The Seed of the Year competition is designed to recognize the research accomplishments of public plant breeders in developing new field crop, forage, fruit, vegetable or herb varieties. Any publicly developed Canadian variety is eligible to compete.  The winner is selected on his/her past contributions to the overall industry.
Two other finalists for the east division of Seed of the Year were also recognized at the event. They were Dividend VL Orchard Grass developed by Stephen Bowley and Donna Hancock with the University of Guelph; and DH 410SCN a soybean variety developed by Dr. Gary Ablett, Bryan Stirling, and Dennis Fischer from the University of Guelph- Ridgetown Campus.