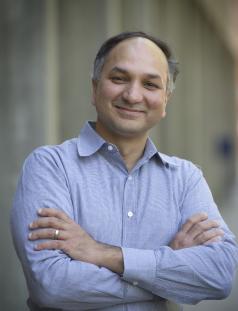 Professor
International Relations Officer
Email:
Phone:
Education:
B.Sc. University of Western Ontario;
Ph.D Stanford University
Location:
Room:
The focus of the Raizada Lab is to develop low cost technologies that empower farmers in North America, Sub-Saharan Africa and South Asia, focusing on technologies that reduce the need for synthetic nitrogen fertilizers and pesticides to grow corn and other crops, by replacing them with more natural, biological resources. In particular, the lack of nitrogen fertilizer limits crop production, but its high cost can also reduce farmer incomes, and contribute to climate change.
We have several approaches to tackle these problems as described in more detail below and on our Lab Website at www.RaizadaLab.ca. First, the Lab is attempting to discover and apply probiotic microbes (endophytes and Rhizobia) to crops. Second, we are engineering new diagnostic tests (microbial biosensors) to help farmers maximize organic nitrogen production from associated legume crops (e.g. soybeans) while more effectively using synthetic nitrogen fertilizers. Finally, we are trying to empower the world's subsistence farmers by developing low-cost Sustainable Agriculture Kits (SAKs), an inexpensive picture book of alternative practices (indigenous and modern) to assist illiterate female farmers, and a free online agricultural extension book of innovative ideas to assist NGOs, farmer groups, extension officers and global aid workers.
Project 1 - Replace synthetic nitrogen fertilizers and pesticides with inexpensive, natural probiotic microbes (plant microbiome discovery)
We are interested in probiotic microbes that can assist plants to acquire nutrients, especially organic nitrogen, or reduce the need for pesticides. We currently have two major sub-projects in this area:
1. Discover novel endophytes as probiotics
Endophytes are microbes which inhabit plants without causing disease and may benefit their host plants. Our lab has completed the most comprehensive study of the bacterial endophytes (subsurface plant microbiome) of the genus Zea which includes corn (maize). We have expanded the discovery of endophytes into other crops. This research may accelerate the replacement of synthetic fertilizers and pesticides in agriculture with microbes that can be coated onto seeds or sprayed onto plants to provide these same functions. Novel products intended for a commercial pipeline are being tested in corn, wheat and turfgrass.
2. Improve biological nitrogen fixation in legumes
Apart from the use of synthetic nitrogen fertilizer, natural bacteria that associate with some plants have the ability to convert nitrogen gas found abundantly in the atmosphere into ammonia fertilizer, a process called biological nitrogen fixation. This is especially true for legumes such as soybeans, as well as indigenous legumes in the Middle East, Africa and Asia such as lentil, bambara groundnut, cowpea and pigeonpea. Our Lab has developed a new technology for the measurement of biological nitrogen fixation. We are now testing the technology with the goal of helping farmers to use the optimal microbial strains (Rhizobia) for their local crop cultivars, and to help breeders select for improved nitrogen fixation under stress (e.g. drought).
Project 2- Utilize existing nitrogen fertilizer inputs more efficiently.
The Raizada Lab currently has 3 sub-projects in this area:
A. Engineer Inexpensive Nitrogen Fertilizer Tests for Farmers and Scientists
Real-time measurements of soil or plant nitrogen levels are critical to a farmer understanding whether fertilizer needs to be added or whether it is being added in excess quantities, which can be environmentally damaging and costly.  On farms in Ontario, and in research labs in many developing nations, measuring soil nitrogen levels (e.g. nitrate) accurately requires expensive equipment or cannot be performed on-site.  For example, in Ghana, the cost of measuring nitrate in a single soil sample is $20 USD, far beyond the reach of most researchers.  We are engineering biosensor bacteria that change colour in response to changing nitrate, ammonium and amino acid (glutamine) concentrations.  Our goal is to develop a <$1 USD soil extract (nitrate/ammonium) test and (plant extract) glutamine test: free glutamine is a good indicator of the nitrogen status of corn.  We are currently testing whether the latter technology may be used by breeders and molecular biologists to improve nitrogen use efficiency (NUE) in corn and other cereal crops.
B. Study and Optimize the Corn Root System to Absorb Fertilizer More Efficiently
Only 50% of nitrogen fertilizer added to corn roots are taken up by the plant. To identify target traits for improved root uptake, our lab has developed a novel approach for phenotyping the large root system (1m deep) of corn, called aeroponics, in which roots are grown suspended in the air. We have used this technique to undertake the most comprehensive analysis of how corn roots respond to low nitrogen stress, which has identified for the first time that fine roots and root hairs respond to low nitrogen, identifying novel targets for breeders. Furthermore, in order to identify which traits have the potential to improve corn nitrogen uptake, we undertook the first analysis of how the wild ancestor of corn (teosinte) responds to low nitrogen and compared it to modern corn, to know which traits have changed over the last 9,000 years. Our research was highlighted by the Crop Science Soc of America and maize genomics community (MaizeGDB.org).
C. Study Corn Root Hair Cells
Root hairs take up nitrogen and water, but there have been no previous studies as to how the root hair transcriptome of any plant species responds to these nutrients. We have undertaken the first ever transcriptome analysis of root hairs in response to nutrients in any species, and we have predicted promoter motifs that may underlie regulons of root hair gene expression. Our research suggests that root hairs are very sensitive sensors of their environment. We have also identified novel promoter motifs using a software program that we custom-developed for the maize genome called Promzea.
Project 3- Develop inexpensive Sustainable Agriculture Kits (SAKs) and extension training materials for subsistence farmers.
There already exists excellent, peer-reviewed scientific knowledge, good seed stocks, inexpensive tools, small business ideas, and environmentally-friendly indigenous knowledge to help poor farmers with their fertilizer and other needs -- but these are not being taken advantage of fully. What is lacking is a means to package, deliver and SHARE these "technologies" to the 2 billion people earning $1-$2 per day. Founded by Prof. Raizada, SAKs are $10 commercial toolkits to make the world's best scientific and indigenous technologies and practices available to the world's ~2 billion rural poor people involved in agriculture --- at the correct economy of scale. In the coming years, we will be focusing our efforts to reach 100,000 people in rural Nepal with a recent $2.1 million CIFSRF grant from the International Development Research Centre (IDRC). As part of this project, we are also developing teaching (ag extension) materials for illiterate women farmers, as well as a comprehensive written manual for farmer groups and non-governmental organizations (NGOs).
For further information about the Raizada Lab and our SAK project, please visit: http://www.raizadalab.ca
Courses:
AGR*2150 Plant Agriculture for International Development
MBG*4300 Plant Molecular Genetics
MBG*4300 Plant Molecular Genetics
PLNT*6290 Physiological and Developmental Genetics in Plants
Relevant Links:
Selected Publications:
Khalaf EM and Raizada MN (2018) Bacterial seed endophytes of domesticated cucurbits antagonize fungal and oomycete pathogens including powdery mildew. Frontiers in Microbiology (https://doi.org/10.3389/fmicb.2018.00042)
Shehata HR, Dumigan C, Watts S and Raizada MN (2017) An endophytic microbe from an unusual volcanic swamp corn seeks and inhabits root hair cells to extract rock phosphate. Scientific Reports  7:13479
Shehata HR, Lyons EM and Raizada MN (2017) Turfgrasses as model assay systems for high-throughput in planta screening of beneficial endophytes isolated from cereal crops. Symbiosis (DOI: 10.1007/s13199-017-0511-6)
Thilakarathna MS, Moroz N and Raizada MN (2017) A biosensor-based leaf punch assay for glutamine correlates to symbiotic nitrogen fixation measurements in legumes to permit rapid screening of rhizobia inoculants under controlled conditions. Frontiers in Plant Science 8: 1714
Goron TL and Raizada MN (2017) Biosensor-mediated in situ imaging defines the availability period of assimilatory glutamine in maize seedling leaves following nitrogen fertilization. Nitrogen 1:2
Shehata HR and Raizada MN (2017)   A Burkholderia endophyte of the ancient maize landrace Chapalote utilizes c-di-GMP-dependent and –independent signaling to suppress diverse plant fungal pathogen targets. FEMS Microbiology Letters. 364: fnx138
Goron TL, Nederend J, Stewart G, Deen B, and Raizada MN (2017) Mid-season leaf glutamine predicts end-season maize grain yield and nitrogen content in response to nitrogen fertilization under field conditions. Agronomy 7(2):41
Chapagain, T. and M.N. Raizada. (2017). Impacts of natural disasters on smallholder farmers: Gaps and recommendations. Agriculture and Food Security. 6: 39.
Chapagain, T. and M.N. Raizada. (2017). Agronomic challenges and opportunities for smallholder terrace agriculture in developing countries. Frontiers in Plant Science. 8: 331.
Small, F.A.A. and M.N. Raizada. (2017). Mitigating dry season food insecurity in the subtropics by prospecting drought-tolerant, nitrogen-fixing weeds. Agriculture & Food Security. 6: 23.
Shehata, H.R., M.W. Griffiths and M.N. Raizada. (2017). Seeds of the wild progenitor of maize possess bacteria that antagonize foodborne pathogens. Foodborne Pathogens and Disease. 14: 4.
Thilakarathna, M.S. and M.N. Raizada. (2017). A meta-analysis of the effectiveness of diverse rhizobia inoculants on soybean traits under field conditions. Soil Biology and Biochemistry. 105: 177-196.
Mousa, W.K., C. Shearer, V. Limay-Rios, C.L. Ettinger, J.A. Eisen, M.N. Raizada. (2016). Root hair-endophyte stacking (RHESt) in finger millet creates a physico-chemical barrier to trap the fungal pathogen Fusarium graminearum. Nature Microbiology. 1: 16167.
Goron, T.L. and M.N. Raizada. (2016). Biosensor-based spatial and developmental mapping of maize leaf glutamine at vein-level resolution in response to different nitrogen rates and uptake/assimilation durations. BMC Plant Biology. 16: 230.
Thilakarathna, M.S., M. McElroy, T. Chapagain, Y.A. Papadopoulos and M.N. Raizada. (2016). Belowground nitrogen transfer from legumes to non-legumes under managed herbaceous cropping systems. A review. Agronomy for Sustainable Development. 36: 58.
Shehata, H.R., C.L. Ettinger, J.A. Eisen and M.N. Raizada. (2016). Genes required for the anti-fungal activity of a bacterial endophyte isolated from a corn landrace grown continuously by subsistence farmers since 1000 BC. Frontiers in Microbiology. 7: 1548.
Mousa, W.K., A. Schwan and M.N. Raizada. (2016). Characterization of antifungal natural products isolated from endophytic fungi of finger millet (Eleusine coracana). Molecules. 21: 1171.
Khalef, E.K. and M.N. Raizada. (2016). Taxonomic and functional diversity of cultured seed associated microbes of the cucurbit family. BMC Microbiology. 16: 131.
Johnston-Monje, D., D.S. Lundberg, G. Lazarovits, V.M. Reis and M.N. Raizada. (2016). Bacterial populations in juvenile maize rhizospheres originate from both seed and soil. Plant and Soil. 405: 337.
Shehata, H.R., E.M. Lyons, K.S. Jordan and M.N. Raizada. (2016). Bacterial endophytes from wild and ancient maize are able to suppress the fungal pathogen Sclerotinia homoeocarpa. Journal of Applied Microbiology. 120: 756-769.
Shehata, H.R., E.M. Lyons, K.S. Jordan and M.N. Raizada. (2016). Relevance of in vitro agar based screens to characterize the anti-fungal activities of bacterial endophyte communities. BMC Microbiology. 16:8.
Mousa, W.K., A. Schwan, J. Davidson, P. Strange, H. Liu, T. Zhou, F-I. Auzanneau and M.N. Raizada. (2015). An endophytic fungus isolated from finger millet (Eleusine coracana) produces anti-fungal natural products. Frontiers in Microbiology. 6: 1157.
Mousa, W.K., C. Shearer, V. Limay-Rios, T. Zhou and M.N. Raizada. (2015). Bacterial endophytes from wild maize suppress Fusarium graminearum in modern maize and inhibit mycotoxin accumulation. Frontiers in Plant Science. 6: 805.
Soliman, S.M., J.S. Greenwood, A. Bombarely, L.A. Mueller, R. Tsao, D.D. Mosser and M.N. Raizada. (2015). An endophyte constructs fungicide-containing extracellular barriers for its host plant. Current Biology. 25: 1-7.
Harding, D.P. and M.N. Raizada. (2015). Alternative strategies for controlling weeds in field crop and turf systems using bacteria, fungi and viruses. Frontiers in Plant Science. 6: 659.
Goron, T., V.K. Bhosekar, C. Shearer, S. Watts and M.N. Raizada. (2015). Whole plant acclimation responses by finger millet to low nitrogen stress. Frontiers in Plant Science. 6: 652.
Thilakarathna, M.S. and M.N. Raizada. (2015). A Review of Nutrient Management Studies Involving Finger Millet in the Semi-Arid Tropics of Asia and Africa. Agronomy. 5: 262-290.
Goron, T.L., S. Watts, C. Shearer and M.N. Raizada. (2015). Growth in Turface clay permits root hair phenotyping along the entire crown root zone in cereal crops and demonstrates that root hair growth can extend well beyond the root hair zone. BMC Research Notes. 8: 143.
Mousa, W.K. and M.N. Raizada. (2015). Biodiversity of genes encoding anti-microbial traits within plant associated microbes. Frontiers in Plant Science. 6: 231.
Goron, T.L,. and M.N. Raizada. (2015). Genetic diversity and genomic resources available in the small millet crops to accelerate a New Green Revolution. Frontiers in Plant Science. 6: 157.
Ettinger, C., W.K. Mousa, M.N. Raizada and J.A. Eisen. (2015). Draft Genome Sequence of Enterobacter sp. str. UCD-UG_FMILLET (Phylum Proteobacteria). Genome Announcements. 3: e01461-14.
Ettinger, C., H. Shehata, D. Johnston-Monje, M.N. Raizada and J.A. Eisen. (2015). Draft Genome Sequence of Burkholderia gladioli str. UCD-UG_CHAPALOTE (Phylum Proteobacteria). Genome Announcements. 3: e01462-14.