Weed Team Winners at the North Eastern Weed Science Collegiate Contest
Overview:
On July 24, 2018, the OAC Weeds Team competed at the North Eastern Weed Science Collegiate Contest held at the Pine Level BASF Research Station in North Carolina. Eighty-seven students (52 grads and 35 undergrads) from eight Universities took part in the five-event, one-day competition. The other schools were Cornell, Rutgers, Penn State, Ohio State, Virginia Tech, North Carolina State and Clemson.
The hard work and studies the Guelph students put in paid off. Allison Bailey ranked the top individual in the Undergrad category as she also placed first in weed identification, herbicide injury diagnostic, and the individual sprayer calibration event. Guelph Undergrad Team 3 achieved top score in the team sprayer calibration event. As a result of their strong effort, Guelph took all three awards in the Undergrad Team category: Team 2 (Christena Jenkins-Giffen, Bernard Wierenga, William Kell and Amy Rodenburg) took 1st place; Team 1 (Luke Hannam, Alan Abdulkader, Allison Bailey and Mackenzie Mahon) earned 2nd place and Team 3 (Bryce Ribey, Thomas Bowman, John Fluttert and Kyle Rutherford) placed 3rd. In the Grad Team category, Team 1 composed of Andrea Smith, Lauren Benoit, Brendan Metzger and Todd Frey took 2nd place award.
"The conditions were challenging with rain in the morning and high heat and humidity in the afternoon but our students soldiered on. I am very proud of them" says coach Darren Robinson. "While this was hard, and required lots of studying, I truly enjoyed taking part in this event. I learned a lot and the team spirit was excellent" adds student Amy Rodenburg.
The students prepare for five events: weed identification, herbicide injury diagnostic, resolution of farmer problem and sprayer calibration (written and hands-on). "This is a great opportunity for our students to use knowledge they get at school and see how it applies in real life situations" says coach François Tardif.
The OAC Weeds Team thanks its sponsor: Monsanto Canada, Syngenta Canada, Nufarm Agriculture, Bayer CropScience Canada, BASF Canada, FMC Canada, Valent Canada, Corteva Agriscience - Agriculture Division of DowDuPont, The Grain Farmers of Ontario, Cargill, the Ontario Weeds Committee and the Ontario Agricultural College. Warm thanks to Meghan Grguric for her great coaching and to Mike Cowbrough and Jason Deveau for special training sessions.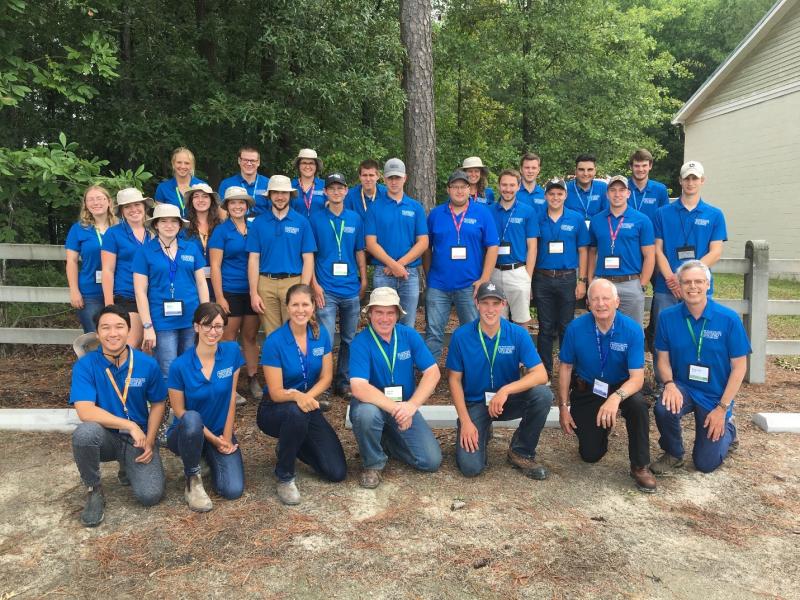 The 2018 University of Guelph OAC Weeds Team: First row, left to right: Clement Mo, Allison Baily, Meghan Grguric, Darren Robinson, Bernard Wierenga, Ken Mackenzie, François Tardif; Second row: Christena Jenkins-Giffen, Jessica Quinn, Karen Francisco, Emily Priester, Nicole Langdon, Ted Vanhie, Will Kell, Bryce Ribey, Todd Frey, Caleb Niemayer, Kyle Rutherford, Brendan Metzger, John Fluttert; Third row (sitting on the fence): Amy Rodenburg, MacKenzie Mahon, Andrea Smith, Peter Buys, Lauren Benoit, Thomas Bowman, Alan Abdukader and Luke Hannam.
| | | |
| --- | --- | --- |
| | | |
| Calculating | Calibrating | Grower Problem |