Travis Cranmer - One of Guelph's "Top 20 under 40"
Overview: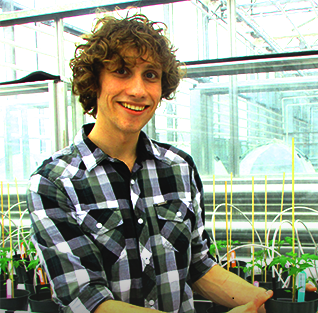 Travis Cranmer, one of Plant Ag's own is now one of Guelph top "20 under 40."
Article from the Guelph Tribune dated April 5, 2018
Travis Cranmer has his dream job. "I work for the ministry of agriculture, I'm a vegetable specialist, and I get to help vegetable growers across southwestern Ontario with pests, pathogens and production issues," he says.
"I'm pretty lucky that I get to work with my favourite crops."
Garllc, onions, brussel sprouts, spinach, beets and broccoli - these are crops he studied for his master's degree at the University of Guelph and veggies he grew as a boy.
Cranmer had a sizable roadside market for 10 years growing up in Sarnia before heading to Guelph in 2007. He was a distinguished scholar at the U of G, earning his masters in plant production systems in 2015 and landing his job with OMAFRA last year.
During his schooling he also found time to start a business selling birdhouse that he designs and builds, including a nifty website that has extensive info on birds and native trees. Much of his dales have been at the Guelph Farmer's Market.
His entrepreneurial skills mix well with his job helping Ontario farmers. "To be able to help them through a problem they're having, and finding a solution - that brings me a lot of enjoyment," he says.
Go online to view the entire article on all the "Top 20 under 40."