Sweet Success: Breeding Yellow Plums
Overview: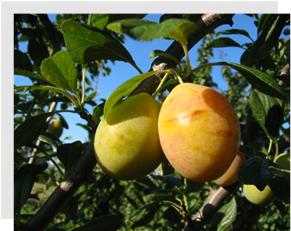 This Friday August 16th, Professor Jay Subramanian was featured in the Toronto Star's Food and Wine section for his research and development 7 new varieties of Yellow European Plums (YEPs). Jay has had great success in developing numerous other stone-fruit varieties like peaches, nectarines and cherries over the last 10 years of his career.
Jay is a tree fruit breeder at the Vineland Research and Innovation Centre, and has dedicated the past few years of his research to the sweet yellow plums. He has been trying to get the newly developed varieties through the long process (15-20 years) of lab research and breeding, and into orchards and markets. With his new varieties, he hopes to extend the yellow plum growing season from 3-4 weeks to nearly 7 weeks. A longer fruit bearing-season, courtesy of an increased number of varieties, means the fruit can be in grocery-stores and markets longer. This ultimately benefits growers, consumers, and markets alike.
For Jay, fascination with yellow plums as opposed to the traditional purple variety began with their undeniably sweeter taste. Along with Plant Ag graduate student Carolyn Dowling, Jay discovered that yellow plums (despite lacking deep purple pigments) contain nearly the same amount of fibre and anti-oxidants as their darker counterparts.
Jay is extremely pleased to see his research taking off in the marketplace, describing it as "a feeling money can't buy".
 
Check out the full article here: http://www.thestar.com/life/food_wine/2013/08/16/breeding_new_plum_a_sweet_gig_for_university_of_guelph_scientist.html