OAC Weeds Team sweeps undergraduate competition at the Northeastern Weed Science Competition 2012!
Overview:
On Tuesday, July 24th, 2012, the University of Guelph- OAC Weeds' Team participated in the Northeast Weed Science Collegiate Contest hosted by Rutgers University located in the state of New Jersey.  Three graduate and three undergraduate teams from OAC competed in the competition.  The purpose of the contest is to provide students with an educational experience that tests their applied agronomic skills in the disciplines of crop protection and agronomy.  A total of 63 students participated, representing 8 different schools.  The OAC Weeds team was the only Canadian team. The universities represented were Pennsylvania State, Ohio State, Virginia Tech, North Carolina State, and the Universities of Tennessee, Cornell, Kentucky and Guelph.
This year the three University of Guelph undergraduate teams swept the awards, placing first, second and third. The first place team consisted of Adam Parker, Ryan Kennes, Dennis Cooper and Jenna MacDougall.  Members of the team that placed second overall were, Chris Budd, Michael Russel and Duncan Ferguson.  The third place team members were Lydia Harrison, Annemarie Van Wely, Emily den Haan and Joshua Burrows.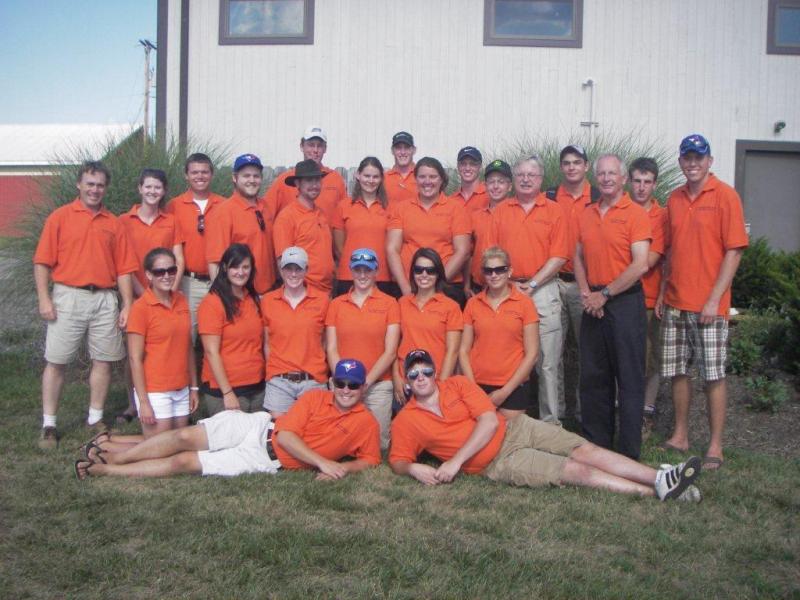 Back Row (left to right): Darren Robinson, Jenna MacDougall, Kevin Robson, Michael Russell, Adam Parker, Michael Vanhie, Chris Budd, Joshua Burrows, Dennis Cooper Ryan Kennes  Third row (left to right): Taylor Jeffery, Duncan Ferguson, Laura Ford, Holly Byker, Clarence Swanton, Ken Mackenzie; Second row (left to right): Lydia Harrison, Joanna Follings, Allison Friesen, Emily den Haan, Annemarie Van Wely, Jessica Gale; Front Row: Andrew Reid, Matt Groen
Individual undergraduate performance awards were given to Adam Parker, Ryan Kennes and Michael Russell who placed first, second and third respectively, in overall undergraduate performance.  The remaining students from the undergraduate and graduate teams competed well and placed competitively within their categories.
Guelph undergraduate and graduate teams have participated in the Northeastern Weed Science Society's Collegiate Weed Science Contest since 1983.   They have placed first in this regional competition 19 times.  The OAC Weed Team was coached by Clarence Swanton and Darren Robinson.  Special thanks to Kevin Chandler, Mike Cowbrough, Andrew Reid, Eric Lyons, Francois Tardif, and Robert Moloney for their contributions to the success of the 2012 OAC Weeds Team.   The financial support of E.I. DuPont, Sharpe Farm Supplies, Nufarm Agriculture Inc., Bayer CropScience, Monsanto Canada, FMC Corporation, Syngenta Crop Protection,  Dow AgroSciences, BASF, Valent Canada and the Ontario Weed Committee is gratefully acknowledged.