OAC Alumni Extension Award
Overview: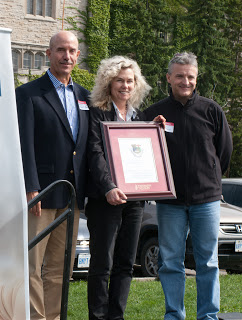 Delayed by the rain on Thursday, the OAC Community BBQ was held Friday at noon on Johnston Green.  Faculty, staff and students were treated to hot beef on a bun, fresh fruit and sweets and a chance to mingle with colleagues in OAC.  A highlight of the bbq was the presentation of OAC Alumni awards, one of which, the Extension award was presented to our own Dr. Mary Ruth McDonald for her accomplishments in the area of extension over the last year.  Peter Warmels, President of the OAC Alumni Association presented the award to Mary Ruth in recognition of her outstanding extension activities over the past year.
Congratulations Mary Ruth, an honour well deserved!