KUDOS to our Weeds Team Competitors and Their Coach!
Overview:
CONGRATULATIONS to the Department of Plant Agriculture Weeds Team who participated in 2023 National Weed Science Contest in Union City, Tennessee.
A group of Guelph grad and undergrad students, collectively known as the Weeds Team, took part yesterday in the National Weed Science Contest in Union City, TN. Our 17 students had prepared for months and studied and refined their skills on weed ID, herbicide symptomology, sprayer calibration and farmer-problems solving. The only Canadian team, they competed against students from multiple US schools including, Penn State, Cornell, Ohio State, NC State, Auburn, Louisiana State, Wisconsin, Kansas State and UC Davis to name but a few. There were 15 undergraduate teams and 37 graduate teams from all these different schools. Among more than 250 participants, our students represented our department, college and university with great pride. They all did well, and many of them received awards which I have listed below. Francois Tardif as coach is very grateful for the support they have received from the OAC Learning Trust and from multiple companies as well as the help from Peter Smith, Mike Cowbrouh, Meghan Grguric and Robert Moloney. 
Here are the awards that they won:
NATIONAL DIVISION
Individual Events Awards​

1st Place: Jillian Ohm – Undergrad Farmer Problem
1st Place: Undergrad Team 3, Kaitlin Woods, Sophie Van den Borre, Lucy McNiven - Sprayer Calibration

Team Awards​

1st Place Overall: Undergrad Team 1, Noelle Adams, Stephanie Fletcher, Curtis Vanrooy, Joe Rastapkevicius
NORTHEASTERN DIVISION
Individual Events Awards​

1st Place: Curtis Vanrooy –Undergrad Farmer Problem
1st Place: Marinda DeGier- Grad Farmer Problem
1st Place: Undergrad Team 3, Kaitlin Woods, Sophie Van den Borre, Lucy McNiven - Sprayer Calibration

Team Awards

1st Place: Undergrad Team 1, Noelle Adams, Stephanie Fletcher, Curtis Vanrooy, Joe Rastapkevicius
2nd Place: Undergrad Team 2, Maggie Durnin, Marissa Jeens, Kelly Ruigrok, Quinn Driscoll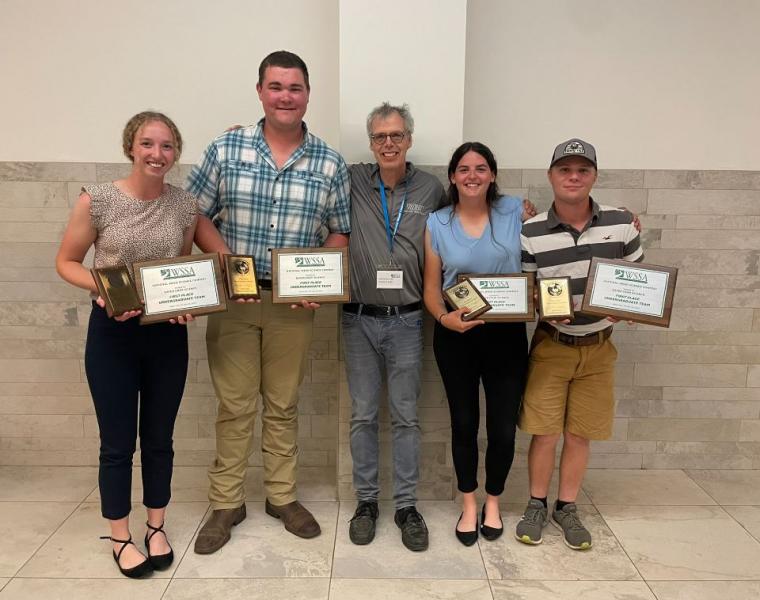 1st Place Winners of the National Division Team Awards (from left to right)
​ Undergrad Team 1: Stephanie Fletcher, Joe Rastapkevicius, Francois Tardif (Coach) Noelle Adams, Curtis Vanrooy,