Overview:
BY ANDREW VOWLES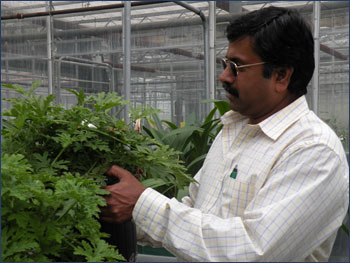 Prof. Jay Subramanian, Plant Agriculture
Those plum trees putting out their delicate pink and white blossoms on an early May afternoon in Vineland aren't the only crop being coaxed along by Prof. Jay Subramanian, Plant Agriculture. Back in his office in the Vineland Research and Innovation Centre, Subramanian has plenty to say about breeding stone fruits for consumers in the Niagara Peninsula and worldwide. But he's equally excited about his volunteer job of nurturing young scientists for tomorrow's world.
This year, he has served as mentor to four elementary and high school students whose projects on fruit production, storage, and health and environmental benefits collected a handful of awards at the regional science fair. The two high schoolers went on to the Canada-Wide Science Fair last week in Winnipeg. And later this summer, they will jet all the way to northern Africa to display their projects at an international science exhibition in Tunisia.