The Face of the United Way
Overview: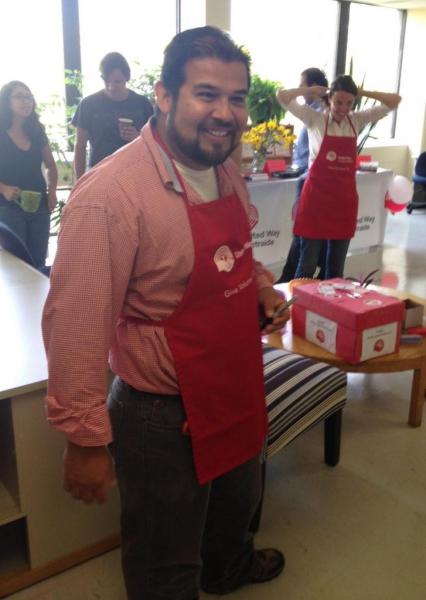 It is the many volunteers Esteban Diaz Castro pictured) that make the United Way fundraising campaign a success each year. Today the group of volunteers treated us to a variety of international treats at the "International Coffee/dessert Break"
Dave Wolyn was the guest speaker for the Big Brother & Big Sisters of Canada (BBBSC) Mentoring Program.  BBBSC provides quality mentoring services for more than 33,000 children and teenagers. The community-based youth mentoring organization currently has over 25,000 volunteer mentors working at 123 agencies that serve children in over 1,000 communities across the country.  Dave shared his experience as a Big Brother to Thomas.  Thomas was seven years old when Dave met him and they have shared many things over the years like oil painting, hiking, canoeing and cooking.  
Dave shared some interesting findings from one of the largest mentoring studies ever conducted, attesting to the value of mentoring young boys and girls. 
Key findings of the study:
Girls with a Big Sister are two and a half times more likely than girls without a mentor to be confident in their ability to be successful at school.
Boys with a Big Brother are three times less likely than boys without a mentor to suffer peer pressure related anxiety, such as worrying about what other children think or say about them.
Mentored boys are two times more likely to believe that school is fun and that doing well academically is important.
Mentored boys are also two times less likely than non-mentored boys to develop negative conducts like bullying, fighting, lying, cheating, losing their temper or expressing anger.
There are many more exciting events planned so stay tuned!!!
Together, we help tackle the biggest social problems facing our community.
Donate and get involved today. 
Change starts here.