BMO BDDC Gift Announcement
Overview: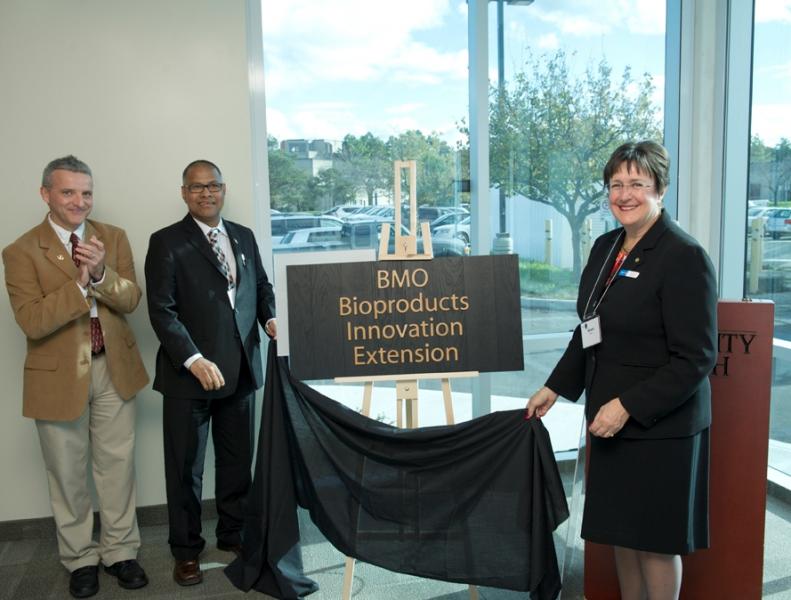 Rob Gordon, dean of Guelph's Ontario Agricultural College, welcomed and thanked the many supporters of the Better Planet Project at a gathering held at the new boardroom in the BDDC Phase II addition. 
BMO will invest $1.25 million toward  the  U of G's efforts to sustain and grow the agricultural bio-economy.  Susan Brown, Senior Vice President, Ontario Regional Division, BMO Bank of Montreal presented the BMO gift and unveiled the plaque which will don the Phase II building.  This money will help expand the centre's research and commercialization facilities, acquire cutting-edge research equipment, and help in the development of future leaders.
Prof. Amar Mohanty, an international leader in biomaterials who holds the $3-million Premier's Research Chair in Biomaterials and Transportation, expressed his deep gratitude to everyone involved in the growth of the BDDC. His list was extensive - highlighting how many individuals and agencies have contributed to the great success of the program.
Ryan Vadori, a current Ph.D. candidate under Dr. Mohanty's supervision and former Undergrad and Master's student who trained at the BDDC,  spoke of the many opportunities that are possible because of gifts such as this.
In November, the University will officially open Phase II of the BDDC in a dedication ceremony whereby it will be named the BMO Bioproducts Innovation Extension.