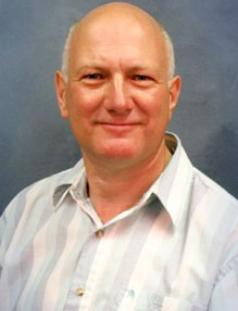 College Professor Emeritus
Adjunct Professor
Email:
Phone:
Education:
B.Sc. Sheffield University;
Ph.D. Sheffield University
Location:
Room:
Management studies in all berry crops seek to reduce inputs, develop integrated pest management practices and work to introduce extended season technologies. The breeding and genetics program seeks to develop new strawberry cultivars for the Ontario market. Genetic studies are focused on fruit quality, pest and disease resistance in strawberries and on understanding the factors involved in season extension and adaptability in strawberries and raspberries.
Strawberry breeding: Since 1983, we have released several varieties from crosses made by my predecessor, Dr. Lew Ricketson, including Governor Simcoe in 1985, Settler in 1988 and Scotland in 1992. In 1995, Startyme was released in conjunction with the Department of Horticultural Science, G19 in 1998, Sapphire in 2002 and Serenity in 2003. The major emphasis in the program has been high fruit quality and recently additional emphasis has been placed on exploiting the dayneutrality trait to extend the harvest season.
In this current era of reduced pesticide use, the genetic attributes of pest and disease resistance are extremely important. To find additional germplasm a large collection of Fragaria virginiana has been made. This valuable collection of native woodland material is presently being integrated into the breeding program. In cooperation with Dr. Jim Hancock, Michigan State University and Dr. Jim Luby, University of Minnesota, F. x ananassa has been reconstituted from the best F. virginiana and F. chiloenisis clones we have. The everbearing fruit form F. virginiana has been incorporated into cultivated strawberries. There are many other traits still to be examined such as resistances to soil pathogens and nematodes, photosynthetic rates, and tolerance to drought and heat stress. We hope to be able to incorporate this new genetic material into the cultivated strawberry to produce superior new strawberry varieties of the future.
Management Studies: a wide range of management studies have been done to benefit the Ontario berry crop industry. Present studies include: greenhouse production of strawberries and raspberries for extended season production, irrigation in highbush blueberries, and the effect of temperature on fruit quality in strawberries.
Courses:
Relevant Links:
Selected Publications:
Dale, A. , S. Pirgozliev, E.M. King and A. Sample. (2005). Scheduling primocane-fruiting raspberries (rubus idaeus l.) for year-round production in greenhouses by chilling and summer-pruning canes. Journal of Horticultural Science and Biotechnology. 80: 346-350.
Dale, A. and Blom T.J. (2004). Far-red light alters primocane morphology of red raspberry. HortScience. 9:973-974
Hancock, J.F., J.J. Luby, A. Dale, P.A. Callow, S. Serce and A. El-Shiek. (2002). Utilizing wild Fragaria virginiana in strawberry cultivar development: inheritance of photoperiod sensitivity, fruit size, gender, female fertility and disease resistance. Euphytica. 126: 177-184.
Dale, A. Gilley, A and E.M. Kent. (2001). Performance of primo-cane fruiting raspberries grown in the greenhouse. Journal of the American Pomological Society. 55: 27-33.
Dale, A. (2000). Potential for Ribes cultivation in North America. HortTechnology. 10: 548-554
Dale, A. (2000). Black plastic mulch and between-row cultivation increase black currant yields. HortTechnology. 10: 307-308.
Dale, A. and J.W. Potter. (1998). Strawberry cultivars vary in their resistance to northern lesion nematode. Journal of Nematology. 30 (45): 577-580.
Dale, A., D.C. Elfving and C.K. Chandler. (1996). Benzyladenine and gibberellic acid increase runner production in dayneutral strawberries. HortScience. 31:1190-1194.